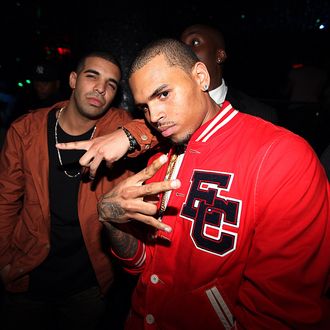 (Dave Kotinsky/Getty Images)
Photo: Shareif Ziyadat/2010 Shareif Ziyadat
Go to Chris Brown's Twitter page, with his nearly 6 million followers, and something's a little off: There are just two tweets. Seems Chris Brown deleted his entire Twitter history after a not-so-mild meltdown Thursday, where he lashed out at all the people still hung up on the little, inconsequential fact that Brown used to beat his then-girlfriend Rihanna. Thankfully several prudent bloggers took care to copy the Twitter storm for posterity's sake.
Don't say sh– to anybody and everyone feels its cool to attack me. GROWN ADULTS!!!! That sh– happened three years ago! TWITTER GETS WACK REAL FAST! I LOVE ALL THE POEPLE WHO SUPPORT MY MUSIC! i never said i was a LEGEND. people please grow up. Ive never dealt with so much negativity in my life! its to the point now that its just ridiculous! IM NOT A POLITICIAN! MY MUSIC DOESNT PROMOTE VIOLENCE nor will it ever! only thing it will increase is the pregnacy rate! I wake up thinking of living my life….. YOU wake up thinking of me! NOW I REALLY CANT WAIT FOR THE AMA's! u dont have to respect me now… but u will.
From now on, all Chris Brown albums should come with a special warning: May cause unintended pregnancy and/or Twitter rage.