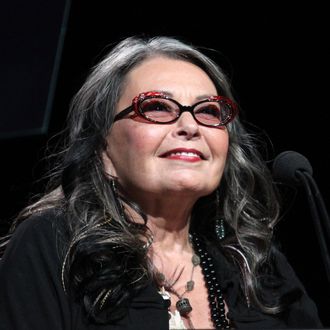 Photo: Frederick M. Brown/2011 Getty Images
Because she is Roseanne Barr and therefore can, the 59-year-old comedienne wrote a very specific, often hilarious defense of menopause for Newsweek, in which she argues that "Menopause is the victory lap over the curse of being born female!" The piece is very loosely directed at Madonna, or more specifically, a gossip item about Madonna "not acting her age," but it segues quickly into a diatribe against the tyranny of hormones, Mother Nature, the patriarchy, and everything else that stands in the way of her mind, basically. For example:
I am old now: gray, wrinkled, tired, and bloated, and my joints ache, too. But I am ready to come into my full destiny—as my childhood dreams predicted—as a Neo-Amazonian Pirate Queen of my own vessel: firing cannonballs at the worldwide culture of patriarchy in the name of all that does not suck. I no longer fear moving on to a better existence than this one, which is, of course, no existence at all. Oblivion will be fucking sweet after a lifetime at the mercy of my hormones and my biological clock and the twisted logic that produced the craving for a dominant male sex partner. I'm quite thrilled to say that at this late hour, in my autumn years, I have at last found a man who is more savant than idiot, and with whom the sparse occasions of physical enjoining of souls is quite sublime.
There's also a bit about "Crone Mode" and a section where Roseanne finds herself "ROFLMFAO"-ing. The whole piece is worth a read.