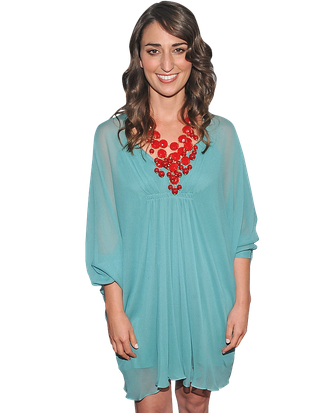 Sara Bareilles.
Photo: Michael Buckner/Getty Images
Piano-playing singer-songwriter Sara Bareilles may not possess the ambiguously accented, syntactically challenged charm of Nicole Scherzinger, her predecessor as the female third of the judging trio on NBC's a cappella competition The Sing-Off. But Bareilles has had plenty else going for her on the show's third season, as an earthy, smart-girl foil to Ben Folds and Shawn Stockman. Bareilles came to The Sing-Off an a cappella veteran (she sang in UCLA's Awaken) and says that hopping onboard the critically acclaimed, if poorly rated show was "a no-brainer for me" (the live finale airs tonight). Bareilles spoke to Vulture from Nashville (where she's recording an EP with Folds) about her own dorky a cappella days, what's so darn controversial about people singing without instruments, and shows like American Idol. 
You've taken Nicole Scherzinger's seat. It seems like the producers were obviously going for something … different, with you?
They were pretty vocal about liking what I brought to the table. As you said, I'm obviously not the Nicole type [laughs]. I have a background in a cappella; I'm well-versed in theory. And I'm kind of the tomboy girl next door who's wearing sparkly dresses.
I've always found it odd that something as benign as a cappella provokes such extreme reactions in people. People are either obsessed with it or totally hate it. Why do you think that is?
I don't know why it's such a hot bed of dispute; it's interesting. My sister did it when I was growing up, so it was always something I sort of revered and couldn't wait to be a part of. I love that in the a cappella community, we're all sort of self-professed nerds and we wear that badge with pride. Like, "Yeah, we're music nerds, get over it! "
Well, it is nice that you, Ben, and Shawn sound like you actually know music on an intellectual level, unlike on some other shows. Are you a fan of American Idol?
You know, I never really got sucked in. Part of why I like this show is that the tone of this show is kind. The judges aren't out to get anybody; it's not explosive in that way. I can't watch [shows like Idol] where they show the audition process and show someone who's actually terrible, and of course won't advance to the next round but they still air it. The joke's on them, kind of, and to me it's just really lowbrow television.
I feel like there are many signature a cappella moves: the dramatic walk up to the microphone, the tortured closed-eye singing. Did you have a favorite move?
Oh God, no, but we had this one talent competition called Spring Thing [at UCLA], and we wanted to compete with "Like a Prayer," but we tried to be dancers. We did this whole choreographed routine and it was such a poor choice because we weren't dancers, and the singing became so secondary. We had the leather pants and ripped shirts and thought we were so cool, but we sucked!
You, Ben, and Shawn always look like you're having such intense conversations during the commercial breaks.What's your rapport like?
There have been some disagreements, times where one of us is the odd man out. Sometimes it's me going, "You guys, I don't see why they're still here," and they're championing somebody. We usually get to a place where we agree, but it doesn't always come so quickly.
The Sing-Off is like this delightful little bubble of a cappella love, but isn't it a tough road to hoe for the winner, selling a cappella in the real world?
It is. I don't even know if it's a code we've totally cracked yet. I think there's room for it, but I think it has to be done in the right way, and hopefully that's something we can have input on and really get these groups moving.
The performances from the show seem to be selling well on iTunes, and the show is critically acclaimed, but it seems to be languishing in the ratings. What do you think the issue is?
Yeah. It's tough, because the TV world has become more and more sensationalistic and I think some of our direct competition feeds into that. I'm not judging whether it's good or bad, but I think the eye of the audience member is drawn to the most bombastic version. The heart of this show really stays with harmony, that's something Ben Folds brought up early on in our journey: This show is about harmony, and a lot of shows are about dissonance. It's a choice from the producers of the show and from us as participants, that we want this show to feel great, and given more time, I hope more people will be able to see that. You never know; we're ridin' the wave, we'll see what happens.