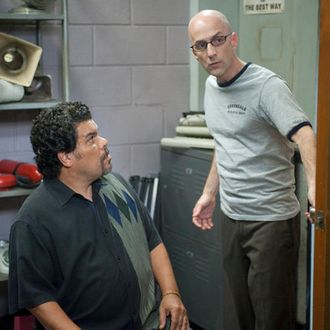 COMMUNITY – "Advanced Gay" Episode 306 – Pictured: (l-r) Joel McHale as Jeff, Alison Brie as Annie, Yvette Nicole Brown as Shirley, Gillian Jacobs as Britta, Danny Pudi as Abed – Photo by: Justin Lubin/NBC
Photo: Lewis Jacobs/NBC
While Community's situation is confusing, it's not exactly dire; this not just according to us, but to Yvette Nicole Brown (Shirley). According to Brown, in an interview with The Hollywood Reporter,
"One of the executives came to our table read two days [after the announcement] with a 'Save Community' t-shirt that they made themselves with a sharpie and a Hanes shirt," she says. "This is someone who's kind of in the process with us and knows that it's not ideal that we're not on the air."
For a fan, "Save Community" is a rallying cry/propaganda opportunity, but for an executive in charge of the show, it could be an actual to-do list. Judging by the cast's attitude, it just might be.