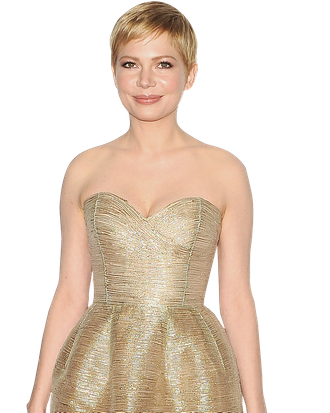 Photo: Jason Merritt/Getty Images
In My Week With Marilyn, Michelle Williams takes on the legacy of America's Greatest Sex Symbol, the oft-imitated but still unknowable Marilyn Monroe. It's a daunting transformation for any actress, but especially for Williams, who, after leaving the teen drama Dawson's Creek, made a new name for herself as a respected, if not well-known indie actress with a penchant for unflattering roles. With Marilyn, she reinvents herself again as a glamorous star with mainstream potential — but will a big-budget career follow? To find out, we spoke to industry insiders to answer the question: If Michelle Williams were a stock, should you buy, sell, or hold?
Stock History: Williams was 17 when she landed the role of Jen Lindley, the tortured bad-girl-gone-good on the seminal WB series Dawson's Creek. She spent six years on the hyperarticulate teen show, while making increasingly weighty movies on the side (the arc from Dick, a frothy 1999 Watergate satire with Kirsten Dunst, to 2003's The Station Agent makes for a neat summary of Williams's career to that point). A string of unremarkable post-Dawson's movies (plus an Indie Spirit nomination for Land of Plenty) followed, but it wasn't until her supporting role in 2005's Brokeback Mountain that Williams managed to rebrand herself as a bona fide grown-up actress. Her Oscar-nominated turn in the Ang Lee drama opened up a second career in independent films, and Williams started popping up in high-concept, little-seen, mostly bummer movies like I'm Not There, Wendy and Lucy, and Charlie Kaufman's Synecdoche, New York. Then came Blue Valentine, for which the genuinely talented Williams, who played the saner half of a romantically doomed married couple, received her second Oscar nomination. Still, Blue Valentine's commercial reach was limited at best, and her most recent movie, Meek's Cutoff, made less than $1 million at the box office. Between those films, Williams appeared in Martin Scorsese's Shutter Island — but only in a supporting role, as the dead wife to Leonardo DiCaprio's haunted investigator. She has yet to topline a major, mainstream movie, nor does she seem eager to do so. At this point, she's known to the relatively small independent-movie crowd as a wonderful actress, but the mainstream movie audience probably still thinks of her as the sympathetic single mother of the late Heath Ledger's young daughter.
Peers: While both Anne Hathaway (29) and Rachel McAdams (33) "might both get the call before her," the 31-year-old Williams is in the same league as Rebecca Hall (29), Keira Knightley (26), Kirsten Dunst (29, and newly hot again thanks to Melancholia), and just ahead of fast-rising younger talents like Martha Marcy May Marlene star Elizabeth Olsen (22) and Brit Marling (27), the writer-producer-star of Another Earth.
Market Value: Shutter Island ($128 million domestic) and Brokeback Mountain ($83 million domestic) are the only big-budget hits to Williams's name, but she was the main star in neither. Her highbrow movies, meanwhile, have brought in a fraction of those earnings: Blue Valentine coasted Oscar buzz to $9 million — a blockbuster, in this context — but the rest of her indies topped out under $5 million. (Wendy and Lucy hangs with Meek's Cutoff* in the six-figure club.) Marilyn is a tentative step into a bigger film, but even though the Weinstein Company film is getting a wider release than she's used to, the film still has a "specialty" imprimatur and is hardly going for all four quadrants; while good counterprogramming to the kids' movie wave of The Muppets, Hugo, and Arthur Christmas, it's not likely to make a huge splash at the box office. Her mainstream coming-out party will be 2013's Oz: The Great and Powerful, and it's win-win for her. If it succeeds, it will be great mainstream exposure for her if she shines. And if it fails, it will be seen more as a James Franco vehicle.
What Hollywood Says: "I believe she's a terrific actress, who'll never be wanting for job," says one top producer. "But is she a movie star? At the moment, she is not. The studios certainly don't think so. I could attach her [to a project] and the studio would be like, 'And?' Because 'movie star' is a whole other thing. Not all terrific actresses are. Even the ones who've won Oscars, like Rachel Weisz. 'Who?' Another terrific actress."
This producer cautions that the issue isn't the fact that Williams makes her home in Brooklyn with her young daughter; additional West Coast hobnobbing wouldn't change her status, he believes. "There are people like George Clooney who reek of 'movie star,' and he's rarely on the case. Matt Damon doesn't at all, either. They'll do what they need to, sure, but he's not working it either. She isn't working it, either, and she has a certain mystique; I am not sure [the rest of] America even knows who she is." Part of the reason is that, at least thus far, "she's largely a dramatic actress, which isn't helping her. She doesn't do comedy or action."
Indeed, older, more-established stars like Cameron Diaz (39) and Sandra Bullock (47) are still so highly sought after because of their proven ability to pivot from romantic comedy to action flick to dramatic part without creating massive cognitive dissonance. "She reminds me a little of Cate Blanchett, but [Cate's] been at it a little longer," says this producer. "And that's also part of the problem: Has she ever been in a hit movie?"
Certainly — just not one in which Williams carried the whole load, or even much of it. Mention titles like Brokeback Mountain or Shutter Island and her name isn't top-of-mind, even if her performances were top-shelf. And the combined grosses of the films that she has anchored, to much critical acclaim (Meek's Cutoff; Blue Valentine; Deception; The List) don't add up to even a single day of a typical blockbuster's opening weekend.
Still, that's not to say talent agents aren't impressed by the direction Williams has been taking of late. One top agent calls her an "indie darling" who has finally started to move toward "a good mix of the artistic and commercial." Another top rep notes, "She wasn't their first choice, but she did get offered [the lead] in How to Be Single" at New Line [Cinema] that Drew Barrymore's directing, adding, "And she has a great part in that Sam Raimi movie [Oz, the Great and the Powerful]."
Analysis: No one is arguing about Williams's talent; she's proven her chops in countless critically acclaimed performances, including, thus far, My Week With Marilyn. Williams's future bankability depends entirely on her success in expanding her genre horizons. "I think I would have her try and find that movie that was a little bit lighter," our second agent offers. "I think Oz is a good step in that direction: It's fantasy, and it's got James Franco — it's fun, fantastical. And she gets to be light and sweet; she's 'Glinda the Good Witch!' There's nothing that's overly dramatic in it. Sure, it's Rachel [Weisz, who stars as 'Evanora'] who gets to chew the scenery a little bit, but it's Michelle who will be in the sequel, if there is one."
My Week With Marilyn, though a step toward more popular fare, will probably not radically change her profile. But it should make her more visible, and both agents cite her newfound willingness to explore more commercial roles, outside her bread-and-butter character studies like Marilyn, as a sign of major future potential.
"For me, it'd be about finding a filmmaker who could can help her work in that lighter, more comedic space — at the least, a 'dramedy,'" says this second agent. "You want to put her in the hands of a good director, because she needs to something that's a little more commercial. She hasn't really carried a movie, other than Blue Valentine; I mean, it was great, but four people saw it."
The Bottom Line: This column analyzes actors as stocks, wondering whether they'd be a good investment if you had a share of their box office value. Williams has nothing but potential: Her performances, though little seen, earn consistent critical raves, and big-time directors would undoubtedly be eager to cast her in romantic comedies or inspirational, conventional Oscar-season dramas. However, the question remains as to whether she's at all interested in doing something that would pale so creatively against the work she's done. Oz indicates that she's following her Blue Valentine co-star Ryan Gosling's path of dipping into the mainstream only when the right director or project comes along. If this doesn't work out and it drives her back to indies, it's the studios' (and her percentage-taking agents') loss.
Rating: Buy. Williams may not become Julia Roberts, but can settling for Meryl Streep's career really be called settling?
* This post has been updated to reflect the correct title of Meek's Cutoff and Land of Plenty.