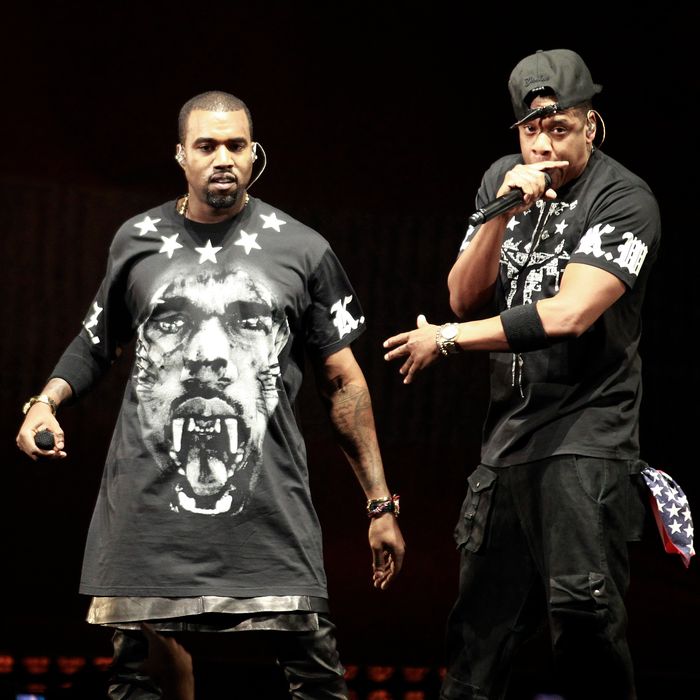 Kanye and Jay-Z throw down.
Photo: Julio Cortez/AP2011
My favorite thing about Watch the Throne, the album collaboration between Kanye West and Jay-Z, was the extent to which it felt like a minor work of sociology. These two rappers have reached levels of wealth and renown that are attained by few American men, and fewer African-American men, and they spent some of their record grimly chewing over what it all might mean. It could be a burden, or a thing that isolates them from other people; it could be part of a whole history of struggle that runs through the Civil Rights movement and straight into Kanye's jacket; it provokes questions about how they would raise children, or what it would look like for the culture of hip-hop to slip into the culture of elites and highbrows. ("Put some colored girls in the MoMA!") Somehow those things seemed more interesting than the album's main selling point — the chance to hear two of our most successful rappers join forces, go nuts, and act like belligerent heroes wandering around kicking over buildings to gales of applause.
Well, seeing them play the first of two shows at Madison Square Garden has me rethinking all this. I confess: The belligerent-superhero part kinda works. And this arena show is all about it. Last night kicked off with the two rappers on opposite platforms — Kanye's by the stage, Jay-Z's in the middle of the audience — leaping vigorously into "H.A.M." This was followed by said platforms elevating to become giant LED-video cubes that played footage of snarling dogs and thrashing sharks, until the rappers were standing 50 feet above the crowd, looking down like Batman after a particularly profound victory. There was, throughout, in the air and on the ground, a lot of silhouetted posing. (The Oscar on this front goes to Kanye, who appeared to turn into a Terminator before "Stronger.") Also jets of flame, whose heat you could feel on your face from far enough away that you might have wondered how the instruments onstage didn't look melty. The stage design, lighting, and dramatic set pieces for this show should probably be licensed for a first-person-shooter video game.
It wasn't just superheroism, though — the beauty of having these rappers tour together is the way they can string together dozens of hits and collaborations into a whole slew of miniature sets. There was the set of Watch the Throne bangers; the set of older Kanye hits; a couple of sets of Jay-Z's biggest radio hits ("Hard Knock Life," "Izzo," "Empire State of Mind"); the set of Watch the Throne's deeper reflections (delivered while seated together on a stage step, a.k.a. "stoop"); the set where Kanye gets emotional and sings ("Runaway," "Heartless") and begs all the lovers in the crowd to hold one another tight. There was the encore set, which was a bit like watching these rappers hang out in a living room lightheartedly flipping through records and rapping along with a verse or two (and was apparently genuinely impromptu, since the D.J. had trouble cueing up enough tunes on the fly). There was even some stagy comedy: Kanye repeatedly stopping "All of the Lights" to ask for more lights, a performance of "Gold Digger" being answered by a performance of "99 Problems," and — not intentionally funny, but somehow still — the bit where both rappers turned to watch a jumbo projection of some cheetahs killing something.
Most of this, I must admit, is Jay-Z's show — and not just because this night had him facing a hometown audience full of people old enough to have loved him for a while. The thing about Kanye is that he has a lot of ideas, explores a lot of different moods, and has a very messy persona. (That last is a quality that I, for the time being, like about him: He's needy, thin-skinned, obsessed with his own self-presentation, and prone to minor fits, all of which I sometimes like to pretend is an elaborate metaphor for what happens to the rest of us when we spend too much time on the Internet.) These things are hard to slot into the jukebox bonanza of a show like this, especially when we don't get to fully soak in the ideas; a few seconds after the crowd starts to levitate over a gorgeous song like "Flashing Lights," the mood's cut short by something else. Jay-Z doesn't have this problem. His is not an art of mood. It's an art of delivering what people are there for, in a steady, grinning, unindulgent, down-to-earth way. The show's smoke and laser lights and intrigue are all for Kanye; Jay-Z takes his stage more plainly and breezes across it without having to worry if an idea's going to fly.
As it turns out, the big two-superheroes moment a lot of this crowd was waiting for came at the end, when the rappers played the majority of the track "Niggas in Paris," then played the entirety of the track "Niggas in Paris," then left the stage, came back for an encore, and played the entirety of "Niggas in Paris" again. Yes, this meant three separate runs of Kanye asking the crowd to sing out my least favorite lines from Watch the Throne — "meet me in the bathroom stall / and show me why you deserve to have it all." (One of the reasons people can enjoy hearing these rappers talk about their wealth and power is the sense that it's all an inspirational victory, or a win for the listener's team. When you get too openly exploitative about what you can do with that power, the bubble bursts. It's the difference between being a "pimp" and being a pimp.) But if you're looking for superheroes and deities, they're definitely packed into all the clipped, taunting, and tumbling rhythms of that track, and available to anyone who can pose right while delivering them. Despite hard work by the big stage screen in the field of the humanities — the montage of images behind "Made in America" included flags, dogs fighting, Katrina's aftermath, a mushroom cloud, and a long shot of a kid who couldn't have been more than 4 in Klan robes — the superhero neck-snapping was a pretty compelling sell, too.