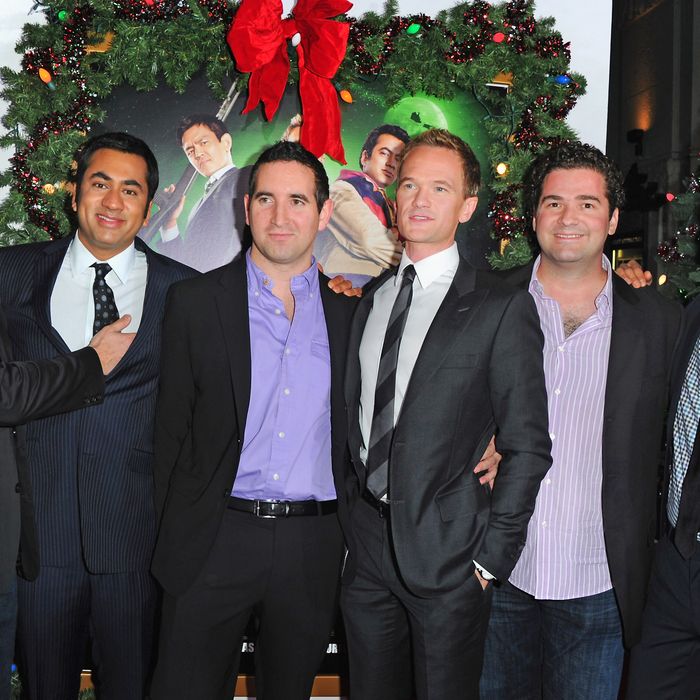 Photo: Alberto E. Rodriguez/2011 Getty Images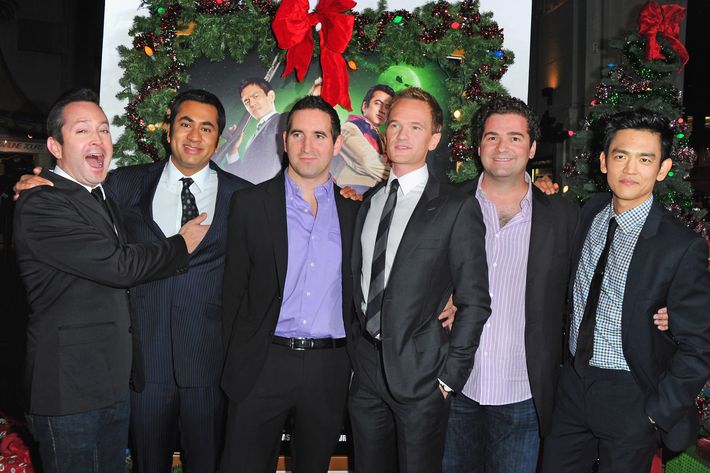 On the occasion of the third installment of the Harold and Kumar franchise, screenwriters Jon Hurwitz and Hayden Schlossberg explain how A Very Harold & Kumar 3D Christmas was almost Harold & Kumar and the Legend of Eazy-E's Stash:
When we wrote the first draft of Harold & Kumar Go to White Castle back in 2002, we were told there was no way we'd get a major studio to green-light a movie that starred Korean- and Indian-Americans. It seemed like the only shot we had was casting Jackie Chan as Harold and Steve Zahn in brownface as Kumar (which, looking back, would have been an interesting way to go). But despite these racial roadblocks, we were not only determined to get Harold & Kumar made, we were determined to turn it into a franchise. Don't believe us? Check out the last page from our original White Castle script …
INT. HAROLD & KUMAR'S APARTMENT - MORNING

KUMAR: For a hot chick, ten days in Europe is the kiss of death. There are gonna be suave, sophisticated guys all over her. By the time she gets back, she may not be available.

Harold feels a little nervous about what Kumar is saying.

HAROLD: Forget it. I'll just wait till she comes back.

Harold starts to walk away from Kumar.

KUMAR: Hey, Rold, wait!

Harold stops.

KUMAR: You do realize what's legal in Amsterdam , right?

Harold turns around. Kumar has a big smile on his face. Slowly, but surely, Harold starts to smile as well. From the look in their eyes, it appears they are going to do this.
The screen goes black and the following words appear: "TO BE CONTINUED IN HAROLD & KUMAR GO TO AMSTERDAM."

FADE OUT.
Ironically, it was this promise of future movies that probably gave Senator International and New Line Cinema the incentive to finance and distribute White Castle. Unfortunately, Harold & Kumar Go to Amsterdam never made it to the big screen (the lack of success of Europe-themed comedies like Eurotrip made the studio skittish about the premise), but the cult following White Castle had on DVD gave us the opportunity to make another H and K movie.
Harold & Kumar Escape From Guantanamo Bay was our first stab at writing a sequel. We liked the idea of making a comedy about the War on Terror. But we also knew that H and K fans who loved watching Kumar bitch-slap a giant anthropomorphic bag of weed in White Castle weren't going to be interested in seeing a dry, witty, political satire. So instead we gave them a wet, raunchy, anarchic satire. And after Guantanamo Bay opened successfully, the studio approached us about doing a third movie.
Here we were again … developing a new concept with the same characters. So we got together at one of our houses and "brainstormed" potential H and K stories (much in the same way Willie Nelson "brainstorms" songs). People often ask us if we use marijuana to come up with comedy ideas. The answer is no. Smoking weed doesn't make comedy writing any easier. (It just makes it more fun.)
After brainstorming our lungs out, we came up with two stories that we were excited enough to write. We met up with our producers and pitched them both concepts. The first was A Very Harold & Kumar Christmas. The concept was simple: Let's put Harold and Kumar in a classic Christmas movie. The fact that we weren't raised Christian wasn't a problem — some of the best Christmas movies and songs have been made by Jews (although Hurwitz and Schlossberg definitely sounds more Jewish than Favreau). The producers seemed excited by the Christmas idea, but they were concerned the movie wouldn't be finished quickly enough for the holiday season.
So we pitched them our second concept, Harold & Kumar and the Legend of Eazy-E's Stash. In this movie, Harold and Kumar find out about an amazing bag of weed that once belonged to Eazy-E in the early nineties. Before he died, Eazy and one of his top hoes hid the bag somewhere in the United States and left clues to its whereabouts within famous rap lyrics. (Kinda like the dollar bill in National Treasure.)
Believe it or not, our producers loved the Eazy-E idea and told us to go work on it. We actually spent a couple days thinking about it. One can only imagine what that script would have looked like …
EXT. CEMETERY - NIGHT

Harold & Kumar walk through the creepy graveyard. Harold nervously walks over to Tupac's grave, while Kumar continues listening to Dr. Dre's The Chronic on his iPod. Just then, Kumar springs to life…

KUMAR: Roldy, wait a second! I got it! It's here in the chorus! Rat-tat-tat-tat-tat-a-tat like that…never hesitate to put a….

HAROLD (finishing his sentence): Nigga on his back! That's it! Check the back of the tombstone!
Alas, it turned out that the logistics of getting the rights to Eazy-E's estate were more challenging than distributing a holiday film. So we stopped working on the Eazy idea in favor of A Very Harold & Kumar Christmas.
We started developing Christmas in early '09. Before we even write the outline, there are a few things we know MUST be in a Harold and Kumar movie: There must be weed. There must be nudity. There must be NPH. (With all this absurdity, you may wonder if we're ever afraid of jumping the shark with the H and K franchise. The answer is no, and the reason is simple: HAROLD AND KUMAR RODE A FUCKING CHEETAH IN THE FIRST MOVIE.)
As for new jokes and characters, we found fertile ground with our Christmas setting. We gleefully ran Harold and Kumar's R-Rated brush over Nativity scenes, Christmas toys, Catholic churches, Jesus, Santa, and Frosty the Snowman. By the time we had finished our first draft of Christmas, it was too late to get the movie ready by the 2009 holidays. Kal Penn's job at the White House also meant we wouldn't be able to shoot the movie until summer 2010, which meant the movie couldn't be released until 2011. So we had to sit tight for a while.

In the meantime, the studio suggested the idea of shooting the movie in 3-D. Our initial reaction was less than enthusiastic. We are very skeptical of 3-D in general, and we were afraid it would just be perceived as a cheap gimmick. But then we looked at our script and saw that many of our scenes were almost tailor-made for 3D: Harold was dodging eggs from a crowd of Wall Street protesters; a Claymation scene where H and K run away from a giant Evil Snowman; and, of course, the idea of blowing smoke into the audience was hard to resist. In the end, A Very Harold & Kumar 3D Christmas turned out almost exactly as we imagined when we first conceived of it. Whether it will ever be as brilliant as The Legend of Eazy-E's Stash, we'll unfortunately never know.