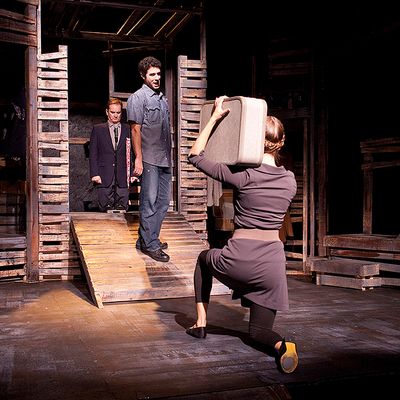 Adam Gerber, Aidan Koehler, and Mickey Ryan in
Lebensraum
.
Photo: Caroline Voagen Nelson
After 62 years in existence, the Stella Adler Studio of Acting makes its belated entrance Off Broadway with its first professional production, a crisp and technically pristine revival of Israel Horovitz's top-heavy theatrical thought-experiment Lebensraum. The premise is ambitious—a near-future German chancellor invites 6 million Jews back to Germany, to reestablish the German Jewry and heal the wounds of the Holocaust—but the show is straightforward to execute. It requires just three mutable actors—here, they're Adam Gerber, Aidan Koehler and Mickey Ryan—to play more than 50 roles. Under the steady direction of Don K. Williams, the company conjures up a compact nightmare of old grudges and wounds-beyond-physic, with flareups blame, resentment and retaliation that occasionally echo Europe's current economic crisis. In good poor-theater fashion, this epic is conjured with hats and shawls, bottles of water, pieces of fruit, practical, offstage sound effects, and minimal lighting; the set itself is a sort of inside-out boxcar, nothing but naked lumber, ramps and crates. At the center of the show is a wispy, wetly telegraphed Romeo-and-Juliet tale, but Koehler and Gerber are a disciplined and appealing pair, and the hokum they're selling actually sells. Meanwhile, Ryan handles most of the grown-up roles with aplomb, and, as an ancient Buchenwald survivor who tracks down and confronts his old persecutor, moves us mightily.

Lebensraum is playing through Nov 20 at the Abingdon Theatre Complex.