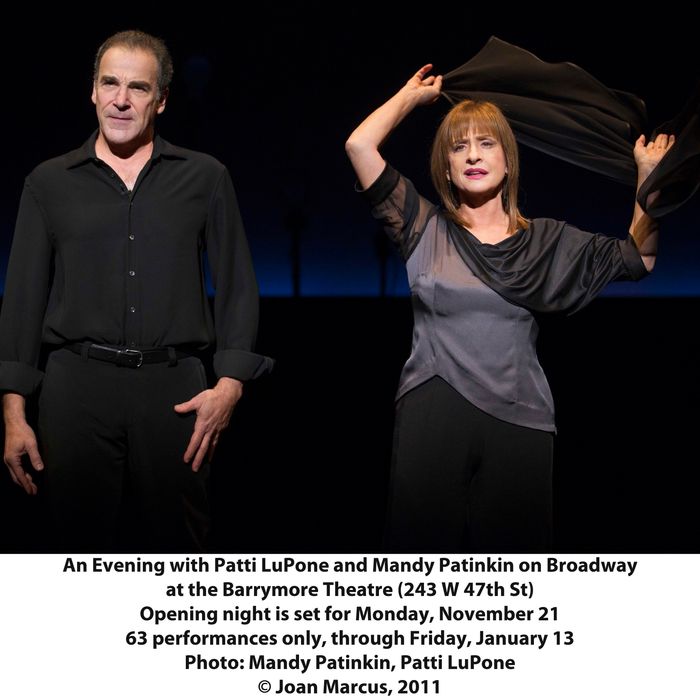 Mandy and Patti.
Photo: ?2011 Joan Marcus
Sick to death of all that easy Ozzie bonhomie over at the House of Jackman? Well, get ready to have your blood pressure pumped up and your sphincter reset to maximum clench: Patti LuPone and Mandy Patinkin, two of the least laid-back performers alive, are hosting their own evening, one that makes no pretense of intimacy or spontaneity. These two came here to do two things: sing Broadway hits and chew scenery. And they're all out of scenery: David Korins's classy, spare stage environment is forested with old-timey ghost lights; a bright stripe of cyclorama paints the backdrop. Music director Paul Ford is at the piano, John Beal on bass. No orchestra, no leggy chorines, no LED screens unspooling Life Goes On or Alien Nation retrospectives. No winking, very little yarn-spinning, and absolutely zero lap-sitting and hand-holding. Just a pair of classic Hirschfeld caricatures, together for the first time since Evita 30 years ago and proving once again why they're worthy of ripe praise and reverent parody and our general prostration.



And if one of them occasionally looks a tad terrified of the other — well, can you blame tiny little Patti LuPone? It's only natural she'd shrink a bit in the blast radius of Patinkin, with his otherworldly tenor (now a cello, now a theremin) and a hackles-up stage presence that's more wolverine-ish than certain other wolverines I could name. He's also the director and conceiver of this sui generis entertainment,  and he's infused the evening with his trademark intensity: He and "dance consultant" Ann Reinking have blocked, staged, and choreographed every instant within an inch of its life. (A playful pas de deux with office chairs comes off especially well, and even gives us permission to chuckle.)  The result is a show where each note, each beat, each smoldering look has the intensity of a cigarette burn. The numbers arrive in lava floes of intricate medley, cleverly interlocking several numbers from one show (South Pacific, Merrily We Roll Along, and Carousel are the anchor tenants) with a peppering of left-field surprises (Murray Grand's "April in Fairbanks," for example, and a Patinkin-sung, gender-switched "Somewhere That's Green" from Little Shop of Horrors). LuPone sometimes feels a bit reserved, vocally and otherwise: The night I attended, a cell phone went off during "Don't Cry for Me, Argentina," and the room held its breath. Would Dame Patti unleash hell, as she's been wont to do in the past? We rather hoped she would. But she was, to her credit, so inside her moment — a quiet, surprisingly serene and unbrassy moment, this time around — she didn't seem to notice. For her, the evening seems a kind of meditation. This is a stark contrast with her co-conspirator: Whether he's macerating "Oh What a Circus" (from Evita) or cardio-mugging through "The God-Why-Don't-You-Love-Me Blues" (from Follies), Patinkin stares out at the audience like he's trying to make us explode in flames. And sometimes? It works. Other times, we're simply not sure when to applaud.

Which isn't to say we don't want to. Even when An Evening with Patti and Mandy grows faintly self-parodic — during, say, the pair's extended Carousel flirtation, which begins to feel like a faculty-club party game that's gotten way out of hand — it remains commandingly virtuoso. By the time Patti and Mandy are delivering "If I Loved You" with the precision and penetrating force of a guided missile, the question seems absurdly coy: Of course we love them. We wouldn't dream of relaxing in their presence. What a waste that'd be. We didn't stop in to unwind, and neither did they.