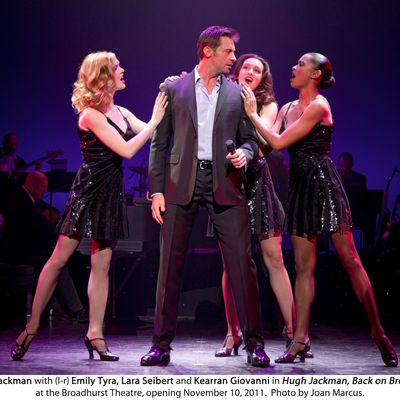 Jackman with Emily Tyra, Lara Seibert, and Kearran Giovanni.
Photo: ?2011 Joan Marcus
SNIKT!, any comic-book fan can tell you, is the sound of Wolverine's spring-loaded claws lancing out from betwixt his manly X-knuckles. It's also, I suspect, the sound that goes through Hugh Jackman's head whenever he successfully pulls off another improbable career move. Action-movie star and Broadway song-and-dance man? No worries, mate. (Even Mandy Patinkin couldn't pull that off in his prime, and he was Inigo Montoya-you-killed-my-father-prepare-to-die.) For someone who once accidentally stabbed himself in the face with his own Wolverine claws, Jackman seems universally adroit, whether he's grapevining through a movie-musical medley, slaying the high note in "Soliloquy" from Carousel, plugging his upcoming turn as Jean Valjean in the film version of Les Misérables, or segueing didgeridootifully into an infomercial for his nonprofit foundation for the preservation of Aboriginal culture. All of these things and more occur in Hugh Jackman: Back on Broadway, a one-man show where branding and bonhomie fuse in a martini shaker of old-fashioned showmanship, and the Troy McClure absurdity would overwhelm us if the man were one iota less impressive. By the end of the night, you're ready to buy just about anything off Hugh: Amway, the Brooklyn Bridge, Berlusconi futures. SNIKT! You're sold. It's nearly impossible to emerge from the Jackman corona with anything other than the impression that you've just spent an evening not just with great talent but also with a great pal.
That's because, of Jackman's many gifts — the brilliantine charisma, those lissome limbs, that adamantium tenor, sometimes vaguely metallic but never less than penetrative — the greatest is his simple Aussie hospitality. Winks, endearingly cornball lines, leaps into the audience, enough mid-song shout-outs to exhaust even Wayne Newton: The guy can flirt with a crowd and make them feel like they started it. He knows how to shrink a room without making himself any smaller: A little song, a little dance, a little Foster's down the pants. (Not down Hugh's pants, though: Judging from the surface tension of his gilt Peter Allen getup, retrieved from his Boy from Oz trunk, ain't nothing's gonna get between the moon and New York City, if you know what I mean.) Sure, there's a fizzy orchestra, a bevy of undulating lovelies singing backup, but really it's just you and Hugh. (Is this a date? Or just a couple of dudes hanging out, shooting the breeze? Neither, either, and both.)
That, sir, is the real razzle-dazzle, a rare thing, and rarer still on an eight-nights-a-week schedule. Before a half-hour's passed, we're watching his reel. His reel! His film reel! In his presence, we feel privileged to experience something we choose to ignore on Netflix Instant every single day. And as the clips from Kate & Leopold and Swordfish roll by, as Hugh croons "L.O.V.E.," we catch the not-so-hidden message: I do this crap to pay the bills, theater patron, but oh, I'd so rather be here with you. We sigh. And SNIKT! he's got us again.
Hugh Jackman: Back on Broadway is at the Broadhurst Theatre through January 1.