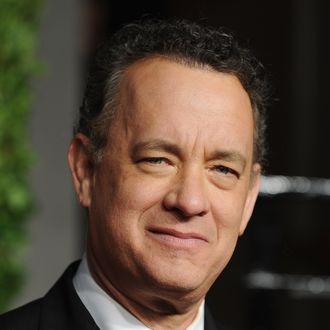 Photo: Pascal Le Segretain/2011 Getty Images
Tom Hanks has lined up a new project with Universal's option on nonfiction bestseller In the Garden of Beasts. Erik Larson's book, released earlier this year, revolves around the true story of U.S. ambassador William Dodd's experience in Berlin in 1933, at the outset of Hitler's reign. Hanks is set to produce, although The Hollywood Reporter writes the onetime Saving Private Ryan star may play the lead as well.
The news confirms our long-lasting suspicion that Hanks will not rest until he's been majorly involved in Hollywood renditions of all pivotal twentieth-century epochs (his next film, January's Extremely Loud & Incredibly Close, is partially a 9/11 reflection). Garden of Beasts' subtitle — Love, Terror and an American Family in Hitler's Berlin — and talking points hint that if Hanks opts to play Dodd, we'd see him face-to-face with Hitler himself.