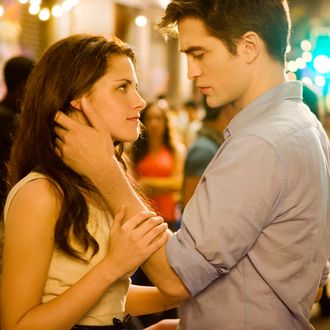 The lovebirds on their Rio honeymoon. (Courtesy of Summit Entertainment)
Photo: Andrew Cooper/? 2011 Summit Entertainment, LLC. All rights reserved.
The fourth and penultimate installation in the great vampire-human-werewolf love triangle opened Thursday night, a minute after midnight, to record crowds. The movie earned $30.25 million, a smidgen ahead of the previous high mark set by 2010's Eclipse, putting it on track for a $140 million-plus opening weekend. As New York's David Edelstein wrote in his review, the nearly two-hour film is "ferociously powerful" and "primal," never more so than when Bella and Edward's impossible baby starts leaching the nutrients from Bella's increasingly frail body, creating an especially arresting transformation of hollowed-out eyes, jagged shoulder blades, and all around gauntness in her body. This movie was engineered for not just a twihard audience — a smart move by the Twilight team that will certainly keep paying off at the box office.
Update: Despite this strong showing, Entertainment Weekly notes, surprised, that Breaking Dawn only got a B-plus CinemaScore from moviegoers. In comparison, New Moon got an A-minus and Eclipse a strong A.