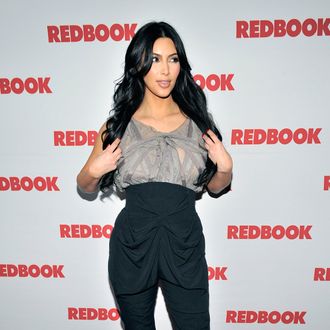 Kim Kardashian.
Photo: Toby Canham/2011 Getty Images
Why did Tyler Perry cast amateur thespian Kim Kardashian in his new movie The Marriage Counselor, aside from the deliciously ironic actress-title matchup? According to Perry, his fans still don't understand. "I was in a Mexican restaurant and the cutest little old woman stopped me and said, 'I want to talk to you about KAR-DAT-CHA-NEM,'" Perry blogged today (via Movieline). "I said, 'Ma'am?' She said, 'What is wrong with you putting her in the lead role of your movie?'"
Here's Perry explaining the situation:
I could not have imagined I'd be getting all these emails about Kim Kardashian. I HAVE SEEN THEM!! YOU HAVE BEEN HEARD!! …LOL. Now, may I say something? Can a brother get a word in?….LOL. Y'all gave me a new movie title, Tyler Perry's Diary of a Mad Black Woman Cause You Hired Kim Kardashian, Don't Make Me Take Off My Earrings and Boycott Yo A**. …LOL. Some of my ladies are upset. Ok, all jokes aside, can I have my say?

After I finished writing this movie, I sat back and re-read it. Half way through my read, the gravity of what I had written hit me. I knew that this message was not only for my age group, but for all audiences, especially the youth. ESPECIALLY THE YOUTH!! YOUNG FOLKS NEED TO SEE THIS!!! … About two months ago, long before I even heard about Kim's marriage or divorce, I was trying to finish up the casting. I said to one of my producers, "who else is out there that young people are looking up to?" One of my producers showed me pictures that his daughter had taken of several hundred kids lined up around the corner to get into a Kardashian store. They wanted to meet Kim. I thought, what better person! She literally has millions of young people following her. I thought and still do think, that it would be very responsible of her to be a part of this film. To have the young people that look up to her, see her in a film that is about, what happens in life when you make the wrong choices. Whether you're aware of it or not, to be honest with you I wasn't, millions of young people adore her and are following her every move. If one of those young people see this film and find the strength to live a better life and not go through what these characters went through in this movie, then we have all done what I feel I'm being led to do here. I hope you understand. I really do!

And lastly, because I believe that my films speak from the inside out, why wouldn't Kim Kardashian be invited into a film about Faith, Forgiveness and the healing power of God? What is wrong with that??
Aren't Faith and Forgiveness cousins to Kim, Khloe, and Kourtney? No wonder she took the role!