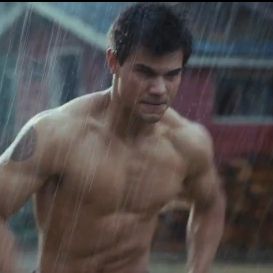 The Twilight Saga: Breaking Dawn - Part 1 arrives in theaters tonight with a lot of punctuation and even more anticipation. Can the movie wrest back its audience of young women from the new trailer for The Hunger Games? Can Breaking Dawn live up to its surprise rave review from the New York Times? (Well, as rave as these things get — Manohla Dargis still compares Taylor Lautner's acting abilities to "one of those friendly pizza delivery boys in a pornographic movie.") And most important, can it make good on some of the crazy, over-the-top moments Stephenie Meyer tossed into her novel? Vulture's seen the movie, and we're here to provide the public service of lowering your expectations. You and your little sister may be anticipating quite a bit from this flick, but here are a couple of important things you're definitely not going to get from it (and needless to say, some spoilers will follow):
A Whole Lot of Shirtless Taylor Lautner
Yes, Taylor Lautner hilariously doffed his shirt in the teaser trailer for Breaking Dawn (as he was wont to do in almost every other scene in the last two movies). But would you believe us if we told you that it's the only time Lautner goes topless during the entire one-hour, 57-minute film? Is director Bill Condon breaking his covenant with the audience by stripping Lautner to the waist for a mere split-second? Is the thrill gone now that Jacob isn't jail bait anymore? In his place, you will get a whole lot of shirtless Robert Pattinson, but …
An Orgasm
Yes, Bella and Edward finally do it. Still, this is hardly the almost R-rated sexfest that Pattinson and Kristen Stewart have been teasing to the media. There's no nudity, there's no real thrusting, and the bulk of the sex scene is recalled elliptically in flashback after Bella wakes up in a state of postcoital … well, we were going to say "bliss," but with Bella's perma-deadpan expression, we'll have to take her word for it. One thing you're definitely not going to see is that orgasm Bella's been after for three whole movies. Female pleasure isn't very PG-13!
Dakota Fanning
Maybe you're expecting to get a glimpse of Dakota Fanning's pint-size Volturi, or maybe you're excited by the additions of Lee Pace or The Pacific's Rami Malek to the sprawling Twilight cast? Too bad: They're not in this one. You'll have to wait until Part 2 for that, and in the meantime, all you've got from the newbies is a two-second freakout from Lost's Maggie Grace.
A Birth As Gory As the Book's
Meyer's Breaking Dawn is infamous for its centerpiece birthing scene, where Edward literally gnaws into Bella's pregnant belly to give her the sparkly vampire equivalent of a C-section. Fans have wondered for years how they'd transfer that to the big screen, and though we don't want to spoil the climax of the movie, you should set your expectations in check: There will be blood, but there won't be a lot of gore (or even clarity). In fact, if you're totally unfamiliar with the book, you may not be able to tell what's going on by the way it's been shot. We feel for you, because when it appears that Edward is indulging in some particularly bloody cunnilingus with Bella at the inopportune time of her delivery, you're going to be really confused.
Forewarned is forearmed! Oh, and don't forget to stay through the closing credits, because there's one last surprise scene. (Yes, you guessed it: Bella gets recruited by Samuel L. Jackson.)