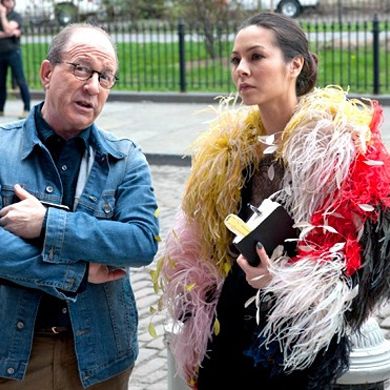 Something more than competition has entered the Work of Art fray—not greed so much as need. And not just the typical artist-need to be loved by everyone everywhere for the rest of time. (Artists!) Money. Last week saw the introduction of a $20,000 reward for the winner of the challenge. This week, the demon minds at Bravo up the ante to $30,000. At exactly 17 minutes, 58 seconds, into last night's episode comes Work of Art's first ever catfight! I get glimpses of why girls' playgrounds are supposedly so rough. Lola snips at Kymia, who grouses about Lola to Sarah K., who says "Lola is one of those people I stay away from" as Lola and Michelle side against Kymia who starts crying as Sara J. complains about Michelle and Lola who call Sara J. "a worrywart." Wow! I would be dead in that sandbox. Lola adds that she's competitive with Kymia, who muses, "I could use the money because I live with my boyfriend's parents." Dusty goes her one better, offering that his wife and he could afford to have another child if he won. Sara J. can't go to grad school without the dough. Reality TV turns more real.
The new show opens with Young massaging Sarah K's back. Sara J. longingly quips, "Young, will you massage my vagina?" Wow—Sara J. has game! Or she's randy! Or just high. In a fleeting shot, I think I spy her on the roof getting stoned.
Anyway: For this week's challenge, four randomly selected two-person teams have to make an outdoor painting on a 44-foot long brick wall on the side of a building under the Manhattan Bridge. The setting is stirring. The teams pair off.
Dusty and Young develop a tender partnership: Dusty just became a father and Young lost his. Dusty notes that Young's black short shorts make him look like "a gay construction worker" and claims that all the ladder-climbing in this challenge is resulting in multiple scrotum-sightings. Sarah K. happily confirms this. The Sucklord, having shown a more human side last week, is making me like him more—and he promptly screws that pooch. The minute he's paired with Sarah K. he crows, "Cutie with a booty … It's pretty obvious she wants my body." Sarah K's body language says otherwise, her arms crossed in front of her breasts. After Sara J coyly observes that Sucklord "could impregnate Sarah K. by the end of this challenge," Lola coos, "I'm not jealous … There's enough of the Sucklord to go around." OMG! If Lola is talking about the Suckpenis, I'm off the show.
Even though this vernacular-art challenge plays to Sucklord's one strength, he is distracted both by Sarah's breasts and by his fear of losing. Worrying about what will be allowed by the judges, exhibiting total lack of confidence, he puts Sarah K. in charge. Bad idea. Her wall grid is only outdone in lameness by Sucklord's idea of attaching little wooden L-shaped things to it. Too scared to really take responsibility, he sends Sarah to Brooklyn alone, ostensibly so he can pack up their gear and construct more meaningless L-shapes.
Sara J. and Kymia create a fine painting of an alien creature pulling a tree. Though it conveys no message or meaning, it has crazy graphic power. The artists insist it's about migration or exile or one of those p.c. war-horsies that makes the art world automatically like things. My fave painting this week, though, is by Lola and Michelle. Having a ball together, letting their freak flags fly and randy imaginations run wild, they fashion "hyper-active tigers and sexual predators with striped penises." Michelle says, "Penises are so much fun." I love their piece for basically being a demented dominatrix comix strip blown up to 40 feet long. I'd have voted it the winner, but it has one flaw: Though it's a big public artwork, it looks like nothing till you get within five inches of it.
Instead, Dusty and Young won, for totally engaging the public. It was amazing to watch viewers and strangers stop, look, and talk about the piece, hang out, write personal memories of lost parents and newborn children. It was way more than a feel-good public service announcement. This painting produced its own emotional and psychic gravity field. It won, and should have won. Also, Dusty says if they win he'll wedge his "junk" into Young's short-shorts.
Which is way more than can be wedged into anything made by this week's losers, Sarah and Sucklord. After learning last week that he's more than a cartoon character, I'm sorry to see the Sucklord go. I see in him a lot of my own guy-who-tries-too-hard qualities. Watching on TV, I see he could carry the whole show himself. But alas, the artistic force was not with him. His quest for the ring had to end. May the action-figure force be with him. As I said before, pretentiously channeling the mighty spirit of art, "Sucklord, you shall not pass." Back to the shire, my little proto-Frodo-type.