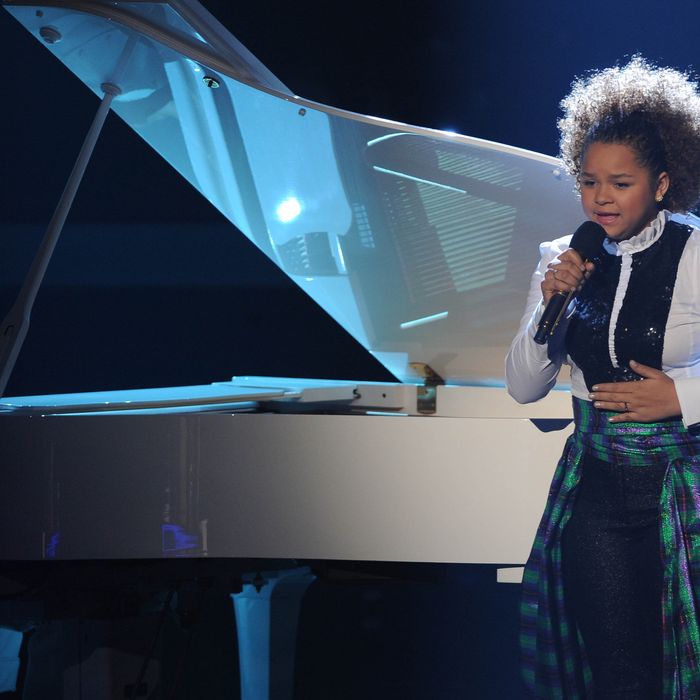 Photo: Ray Mickshaw / FOX
Full disclosure: I am up in Napa for some early Thanksgiving gluttony, so tonight I settled into my hotel at 8 p.m. sharp to watch The X Factor in real time, like some kind of nineteenth-century prairie child. Also, you should know that I have been tasting wine since 10 a.m. Today has basically been a full workday, except my job was putting hearty California Cabernets in my mouth and swallowing. It might cloud my judgment, but it has certainly improved my attitude. Have you ever noticed how beautiful all of these singers are?
Tonight's theme is "Giving Thanks!" The singers will dedicate a song to the person who has inspired them the most. So, tonight will be songs sung directly to parents across the board, right? (Leroy Bell's dad invented sand!)
First up tonight, Rachel Crow sings to her folks, who we just now learn adopted her as a crack baby. Rachel! Don't you know you're supposed to lead with the bad news? Did Stacy Francis teach you nothing? Anyway, it makes me love her more, as it's supposed to, but now there is a whole new layer of concern. Why enter her in this show at age 13? Why not hold on until she's out of high school, when her voice will be just as strong, but her sense of self might be a little more secure? Will this crack mom reemerge, like Penny's mother in Good Times? Her performance is great, even if she's wearing some kind of kilt drapes thing that I don't understand. Paula sums it up nicely: "I … believe in … angels … that exist. On Earth. Living."
Tasting notes: Fresh Skittle on the nose, lingering worry and honey on the palate.
Marcus Canty performs for his mother next. There's not much to say here except that his interview package is cut to Coldplay's "Fix You," and Ben says: "Don't worry, black people. Simon Cowell's gonna come fix you." Marcus's version of "Hey Mama" is a little off key, and it sounds like we're hearing the stage mike rather than his vocal mike, and those two facts may not be unrelated. Also, a picture of Marcus's mother is on the Jumbotron, and you'd swear it was from her driver's license. Oh, and the song contains the line "Loving you is like food to my soul," which is barftown.
Tasting notes: An initial hint of Monster Energy Drink gives way to a rich finish of melted Velveeta.
And then Melanie Amaro goes fucking nuts.
First, she announces that her song will be sung to her good friend God. "Everyone has let me down," says Melanie, "but God never did." Okay, sure. But then she keeps going with it. "God and I make time each week to watch Revenge, and then we discuss it after." "God sends the best texts!" Melanie reminds us that she spent part of her childhood in the Virgin Islands, but just in case you forgot that you should feel bad for her: "I came back with an accent and kids made fun of me." She overcame her shyness through singing, which God was surprisingly supportive of, and here we are. So, God, R. Kelly's "World's Greatest" is for You. No, really. Take it. Hey, what were You thinking when you made this R. Kelly guy?
It's very good, as you would expect. But here comes the crazy part: Right afterwards, Melanie starts talking. "This is the real me," she says, in some kind of Miss Cleo accent I swear I've never heard before just now. "I want to thank you all and I want this so bad!" It's a little like Winston finally learning to love Big Brother at the end of 1984. Needless to say, this is what brings the judges to their feet. GROSS.
Tasting notes: One huge burst of jerk chicken that just comes out of fucking nowhere.
Chris Rene dedicates his song to his rehab counselor. Were you aware that Chris Rene was involved with drugs? It's true. He does a medley of "Let It Be" and his own "Young Homey What You Trippin' On," which you can imagine with 100 percent accuracy even if you've never watched this show. The image on the Jumbotron is a massive, golden celestial gate, which opens at the end. So … Chris Rene has been dead this whole time. Nice twist!
Tasting notes: Burnt spoon and Long John Silver's Dumpster mellows into a suggestion of AA-meeting coffee.
Lakoda Rayne is still in this competition. A couple of them dedicate their song to their fathers (and it could be the fourteen gallons of wine I've had today, but I think one of their dads is named COBUS?), one to her grandmother, and one to her spectacularly pretty boyfriend. "I always wanted to do singing, and he's the one who gave me the strength to do it." Here's a quick note, you two: If you call it "doing singing," you are not yet ready to devote your life to it. They perform the inspirational classic of the gratitude genre, Taylor Swift's "You Belong With Me." It's delightful! The judges like it, even if Simon admits they were mostly off key. Again, either I am drunk or Paula told them: "You … are … grapefruit." (Both can be true.)
Tasting notes: Snapple diet iced tea and Aussie hair products on the nose, grapefruit on the palate, I guess.
LeRoy Bell dedicates his song to his mother, who died two years ago at the age of one thousand. We are treated to baby pictures of LeRoy, which look like those tintype pictures you get at amusement parks. (LeRoy, you see, is very old.) His song is Sarah Mclachlan's "Angel," and I tell you with great relief that there are no pictures of abused dogs on the Jumbotron. Instead, LeRoy continues his streak of performing in a windbreaker in front of videos of candles. Simon tells him he made his mark, and Nicole tries to cry. Is there anything worse than watching someone try to cry? As it turns out, yes: knowing that they are making a zillion dollars off it.
Tasting notes: Strong notes of bicarbonate of soda and the scrapings of the bottom of the old-person-joke barrel.
Steve Jones takes us through some tweets from fans, one of which says, "L.A. Reid be lookin like he wearin' lipstick!" L.A. denies it: "Nah, man, I just have good lips!" Good lips that are sometimes red and sometimes a deep purple? What are they, mood lips? There ain't no future in your frontin', L.A. Reid.
Astro is up next! He has apparently had a rough week, owing to his petulance in last week's results show, so tonight's performance of Jay-Z's "Show Me What You Got" is dedicated to his fans. And its first line is: "I'm 15! What you want me to do?! I'm sorry!" What I am saying is that Astro might maybe not have learned a lesson here.
Tasting notes: Scents of sweaty headphone pad and defensiveness throughout.
Drew's performance is dedicated to her best friend, who taught her how to embrace her inner nerd. Listen: I have seen enough eighties movies in which one person in a best-friend pair suddenly gets popular; I do not like where this is going. I can practically hear this girl crying: "You shit on my house, Drew! You shit on my house!" Anyway, this girl inspired Drew to sing Demi Lovato's "Skyscraper," but did not inspire her enough to get her to switch up her "Dolores O'Riordan playing piano in the hotel ballroom from The Shining" delivery. Nice job, nerd friend.
Tasting notes: Skim milk.
Josh Krajcik closes out the show, dedicating "Wild Horses" to his daughter. It is just him at a piano; it is lovely and he looks great. Even though I still think he will come in third, third is the Gokey/Yamin position, and that's not so bad. This guy is going places.
Directions: Squeeze a dime-size amount of conditioner into your hand, and work it through damp hair. Leave it in and style as desired.
Tomorrow night: two people go home! I think it'll be Chris and LeRoy, and I have been correct exactly no percent of the time.