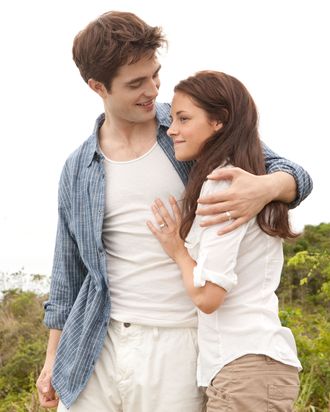 Photo: Andrew Cooper/Summit Entertainment
This Weekend's Winner: Twilight: Breaking Dawn, Part 1 showed us what happens when America's women spend $111 million on movie tickets: an estimated $139 million opening, the fifth largest of all time.
This Weekend's Loser: By contrast, Happy Feet Two with $22 million.
How It All Went Down: We know you'll find this utterly impossible to believe, but 80 percent of the Twilight audience was female. Shocking, right? What is actually a bit more surprising is that the Breaking Dawn audience was 60 percent over the age of 21 (but under 25), which could be a sign that the franchise isn't necessarily adding new fans as much as hanging on to its original ones, who are aging along with it. (Only half the audiences for New Moon and Eclipse were over 21.) Among women under 25, 97 percent were aware of the movie (with the remaining 3 percent in medically induced comas) and more than two thirds (67 percent) expressing "definite interest."
But this is to miss the point of this past weekend. The question is not why Twilight did so well. Rather, the real question is: Why was Happy Feet Two — which made $200 million five years ago — caught so flat-footed? The film opened to barely half of what the original made, and in a rare moment of candor, even its studio admitted it was expecting to make $30 million.

A quick examination of last week's NRG family tracking shows why: As a sequel, Happy Feet Two enjoyed predictably high awareness — 95 percent among kids, and 91 percent among parents "taking kids to the movies" — and since it's kid-friendly, it's not hard to see why so many parents (62 percent) were up for going. What is illuminating is the relatively modest interest from kids 12 and under had in a Happy Feet sequel: Just 43 percent expressed "definite interest." When kids aren't positively clamoring to go to the multiplex, cash-strapped parents — even those 'rents who were otherwise persuadable — don't need a reason to stay home.
 
Finally, let us take a moment to praise Alexander Payne's The Descendants (No. 10, with $1.2 million) and the studio releasing it: The Descendants was originally scheduled to have a limited release on December 16, opening against Roman Polanski's equally anticipated Carnage. Apparently, the thought of needlessly dividing the smart-house audience gave Fox Searchlight pause, and thank goodness it did: For a picture this smart and literate to break into the top ten on its opening weekend would be laudatory enough, but doing so when it's unfurling in barely 30 theaters is even more impressive.