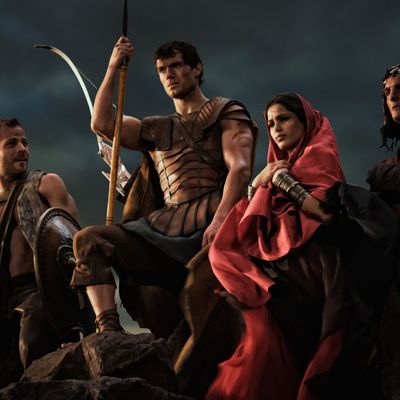 Photo: Jan Thijs/War of The Gods LLC
This Weekend's Winners: Immortals ($32 million from 3,100 theaters) exceeded expectations, which means that — to the extent stars get any credit for anything anymore — Warner Bros. and its forthcoming Man of Steel, starring Henry Cavill, should benefit next year, too
This Weekend's Loser: J. Edgar ($11.5 million from 1,900 theaters) is the very definition of meh.
How It All Went Down: There was nothing obvious about the success of Immortals. It was a male-skewing, R-rated film, which narrows its ability to perform both with the fairer sex and the young 'uns, and represented Relativity Media's biggest bet yet. (The studio says the film cost $75 million, but insiders believe it's more.) It opened at well less than half of what Warner Bros.' 300 grossed in its first weekend, but then Relativity is neither the world's largest studio nor did it begin selling the film a full year and a half in advance of its opening, as Warner did with Zack Snyder's green-screen epic.
What Relativity did do was pray fervently to Hamblor, "the god of hamburgers," to help them target middle America's dudes right where they eat with a huge Carl's Jr. promotion. This red-meat marketing seemed to pay off, with the film's first weekend audience overwhelmingly male (60 percent), young (75 percent under 35), and urban, with more than one-in-three Hispanic.
Speaking of consuming red meat, it must also be said that the thing Immortals also had going for it was an unusually low amount of cannibalism at the box office this weekend: Jack and Jill might have been just about the lowest opening Sandler comedy of his career ($26 million, since we're not counting the highfalutin pictures like Punch Drunk Love and Funny People), but with a PG rating, Sony had families and the youth market all to itself: More than half the Jack and Jill audience (53 percent) was families.
Finally, rounding things out, there was J. Edgar, which had the grown-ups and serious moviegoers to itself, and seemed poised to open more strongly than it did. In fact, late week NRG tracking found that J. Edgar had higher awareness (71 percent versus Immortals' 69 percent) and the same amount (45 percent apiece) of overall definite interest, but those numbers didn't end up amounting to much.