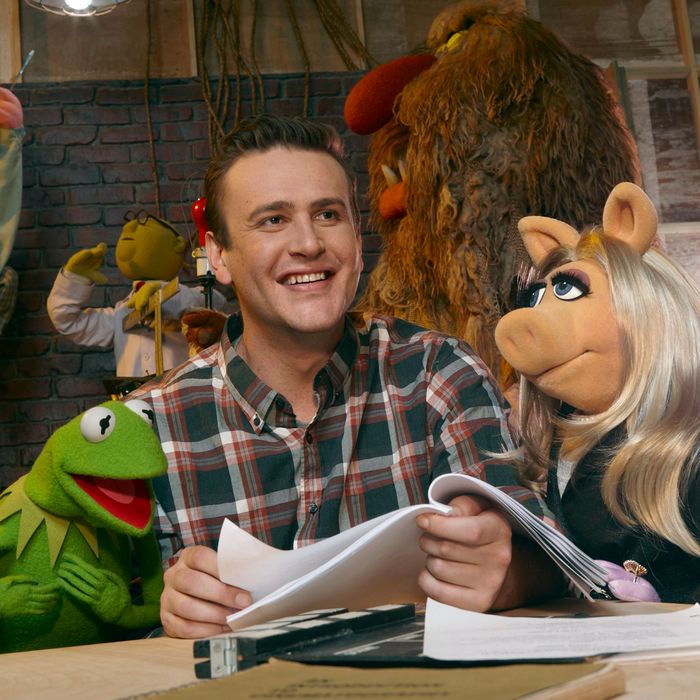 Photo: Photo Credit: Andrew Macpherson/?? The Muppets Studio, LLC
This Weekend's Winners: Twilight: Breaking Dawn – Part 1 continued to vacuum up female moviegoers (No. 1 with a little over $62 million over five days), leading to a bloodbath not only for Bella, but for the three remaining family films, the only winner of which appears to be the made-for-a-song The Muppets (No. 2 with $43 million over the five-day weekend), connecting with both lovers and dreamers alike. (Honorable Mention: After an auspicious toe-dipping last weekend, the addition of some 400 theaters to Alexander Payne's The Descendants led to a whopping 676 percent increase in grosses, and it rounded out the top ten with a $9.2 million five-day weekend.)
This Weekend's Losers: As expected, the other two family films entering the marketplace joined the other 45 million turkeys that met their end over the weekend: Arthur Christmas (No. 4 with an estimated $16 million over five days) appeared to fare slightly better than Martin Scorsese's Hugo  (No. 5 with $15 million over five days), but given that Arthur was on almost two-and-a-half times as many screens, it's probably fair to say that both are in real trouble.
How It All Went Down: Our incredulity at this needless head-on collision of minivans remains unabated. Box office was actually down by double digits compared with the same time last year, when some $35 million more was hauled away. Kudos, however, must be bestowed on Disney. Though it struggled to sell the moribund Muppets franchise to younger audiences, they were, in the end, still able to appeal those who cut their teeth on The Muppet Movie and who now had moppets of their own. At a cost of barely $45 million, The Muppets was never a huge downside risk, freeing the studio to get creative with marketing it. (It also means that The Muppets will be in profit while still in theaters — an ever rarer achievement these days that means Disney will be inclined to support the movie all through the holidays, when winter break kicks in.)
By comparison, it wasn't just that Hugo and Arthur lacked appeal with kids — which they lacked in spades — but that Twilight had so much continuing appeal with moms. As one head of studio marketing put it to us, "Which person with lady parts is going to take their daughter to Arthur Christmas when the whole conversation on the way to the theater is dominated by Twilight?" (As it turns out, only those moms with very young daughters: The Arthur audience was nearly 60 percent female, with almost a third under the age of 25.)
The respective $150-plus million and $100-plus million price tags of Hugo and Arthur also hamper the prospects for both going forward. Say what you will about word-of-mouth building grosses, this is an awfully risky way to go about testing out that strategy. Even with a great Tomatometer rating, we can't imagine that Hugo distributor Paramount Pictures is wholly confident pouring ever more marketing cash down the drain on such a film.
But, if you were wondering how word of mouth is done properly, consider this: In its second weekend out, Alexander Payne's The Descendants widened to a less than a third of the screens that Scorsese's Hugo commanded on its opening weekend, but still managed to gross 80 percent as much. As they say on the Big Island, Ho'omaika'i 'Ana, Fox Searchlight!