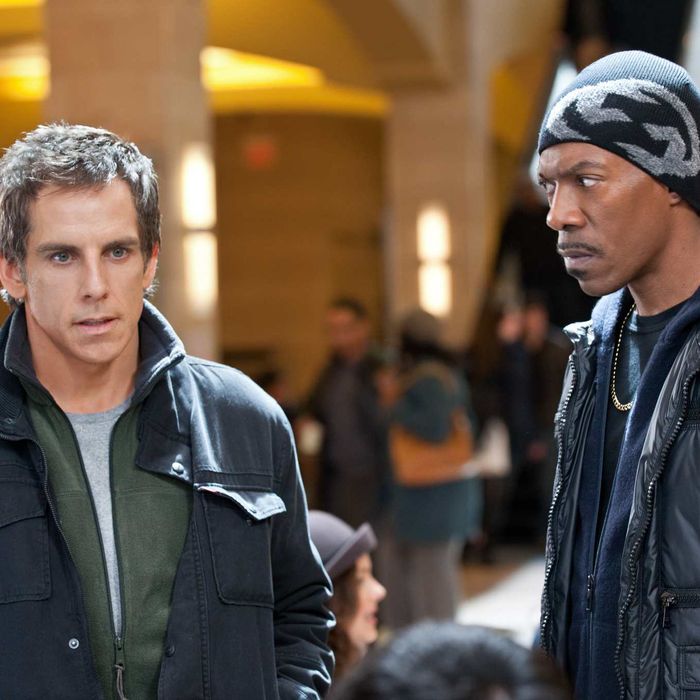 Photo: David Lee/Universal Studios
This Weekend's Winner: DreamWorks Animation's Puss in Boots proved itself a copycat, earning a little over $33 million a weekend after opening at $34 million the weekend before.
This Weekend's Losers: Universal Pictures' Ben Stiller and Eddie Murphy ensemble comedy Tower Heist ($25 million) and New Line Cinema's A Very Harold and Kumar 3D Christmas ($13 million) both failed to reach their expected, uh, highs.
How It All Went Down: Last weekend, some commenters called into question our assertion that Puss in Boots was a success, as it underperformed studio expectations by $10 million. But not since My Dog Skip over a decade ago has a wide release held on so well in its second week. Skip actually increased its audience, while Puss lost only 3 percent of its crowds, but still: Holy frijoles! (Does your cat have "golden eggs"? I didn't think so.) We like its chances next weekend, too, when the major releases will be Immortals and Jack and Jill, leaving the cat-door wide open for Puss to do even more business with young families next weekend, before penguins invade.
Puss's win was made that much easier by the modest opening of Tower Heist, which appealed, according to Universal's own audience research, to mostly older women — the hardest demographic to get into theaters, since they're usually saddled with childcare on weekends. Sure enough, its opening weekend audience was 56 percent female, almost two thirds (62 percent) over 30. (The reasons Universal may have wanted to use Tower Heist to test drive their aborted VOD experiment in a few small market is clear: Faced with a film that would open to subpar grosses, why not try to connect with some of those hard-to-reach women on Thanksgiving Day weekend, when they're home from work but still hard to get into a theater?)
Finally, before we get letters from angry stoners defending Harold and Kumar's latest joint, we lump it into the category of losers not only because it opened a full million dollars lower than their last outing in 2008, but because it's in 3-D, and good luck hanging on to a 3-D screen amid the onslaught of movies like Immortals, Happy Feet Two, and Hugo et al.