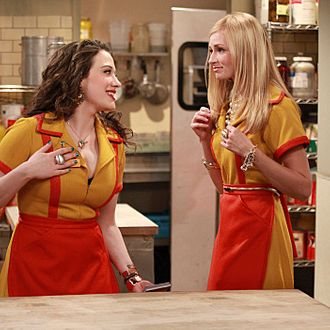 2 Broke Girls
.
Photo: RICHARD CARTWRIGHT/?2011 CBS BROADCASTING, INC. All Rights Reserved.
Apparently, 'tis the season to eat maggots: Monday's reboot of Fear Factor transformed NBC's usually elf-size ratings into numbers about which network brass can be jolly. We'll get to the specific numbers in a moment, but while Fear was flashy for NBC, the biggest ratings news last night might have been the Nielsen returns posted by CBS in the 8 p.m. time slot. Without much fanfare, the Eye's programming reindeer decided to sub an original episode of 2 Broke Girls in place of usual slot occupant How I Met Your Mother. And guess what: Michael Patrick King's ribald and subtly sapphic rom-com did spectacularly, easily winning the half-hour with 12.6 million viewers and a 4.1/11 with those under 50. In terms of overall viewership, those numbers are up a bit from what 2 Broke averaged at 8:30 p.m. during the November sweeps, as well as versus what HIMYM has been doing at 8 p.m. (in the key demo, 2 Broke was down a tad). This indicates two things: 2 Broke has its own strong, solid core audience not dependent on its HIMYM lead-in, and if CBS decided to shift either 2 Broke or HIMYM to another night next fall, its powerhouse Monday lineup would likely survive the change. The ratings from last night also show one more thing: As much as we love Fox's New Girl, CBS's 2 Broke Girls is now definitively the biggest comedy hit of the season. 
Now, getting back to Fear: The night's back-to-back hour-long episodes averaged 8.6 million between 8 and 10 p.m. and delivered a healthy 3.4 rating with viewers under 50. That was good enough for NBC to finish second for the night, just behind CBS's Monday comedies. Is this a game-changer for the Nielsen-challenged Peacock? No, but if NBC doesn't decide to expand Fear into a weekly two-hour block and run it into the ground, the network, at worst, has probably found itself a utility player to air at various times a year; at best, Fear 2.0 could be a nice building block to help NBC create a male-skewing unscripted block to keep men engaged during the NFL off-season. The big unknown is whether last night's ratings were mostly thanks to nostalgia for the once-huge series, or whether they indicate there's a strong base of couch-bound thrill lovers willing to embrace Fear itself on a weekly basis.