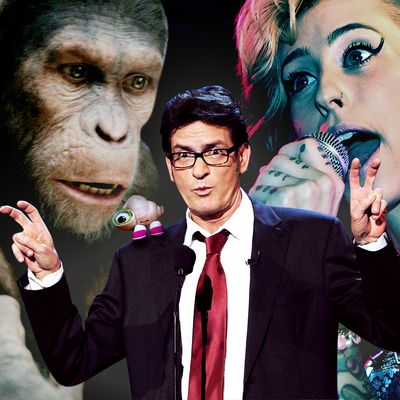 2011 in Quotes - Rise of Planet of the Apes, Kreayshawn, Marcel the Shell, Charlie Sheen
Photo: 20th Century Fox, Christie Goodwin/Redferns, Jeff Kravitz/FilmMagic
As 2011 draws to a close, we look back on the great gifts pop culture has given us this year — not the shows or films or songs themselves, but rather the wonderful, terrible, memorable quotes therein. Can you believe "Friday, Friday, gotta get down on Friday" entered the lexicon only nine months ago? Vulture presents to you now the best, most important, catchiest, silliest, dumbest, and most delightful quotes and lines of the year, in no particular order:
"Winter is coming." —Game of Thrones leapt from popular fantasy series to legitimate phenomenon with the popular HBO adaptation. George R.R. Martin sure knows how to turn an ominous phrase.
"Gucci, Gucci, Louis, Louis, Fendi Fendi, Prada: Basic bitches wear that shit, so I don't even bother." —Kreayshawn in "Gucci Gucci," her breakout song, teaching us the ins and outs of Oakland fashion.
"Caesar is home"and "Why cookie rocket." —Rise of the Planet of the Apes was the surprise actual good movie of the summer, and it gave us at least one catchphrase. Maybe two.
"Treats and snoozin', snoozin' and treats." —Marcel the Shell: Part Two saw our be-shoed pal getting what he wished for in part one: a dog. Too bad this pooch only cares about two things.
"It's Friday, Friday, gotta get down on Friday." —Rebecca Black's accidental hit is one of the worst songs in living memory, yet here we are, still humming it. Fun, fun, fun, fun.
"Who killed Rosie Larsen?" —The Killing's promo copy came back to bite it in the frustrating, incomplete ass as the season ended without answering that question.
"Winning!" —Never has so innocent a phrase become so completely linked with a delusional celebrity. Congratulations, or something, Charlie Sheen.
"What is a 'weekend'?" —Downton Abbey's dowager countess sums up everything fans of the show have come to love: It's at once an elegant portrayal and a well-placed skewering of rigid British class stratification. And it's also funny!
"Treat yo self." —Ron Swanson is the more frequently meme-orialized Pawnee resident, but Tom and Donna's annual Treat Yo Self day may be the greatest enabling mantra of all-time.
"If you don't surrender that list, I will kill every friend you have — Zake, Keelie, neighbors, even your boring teachers — and when I'm finished you will be responsible for the death of every friend you have on Facebook." —This classic line, uttered by the villain in Taylor Lautner's Abduction, is notable not just for its campiness but for the way it slowly loses steam as a threat. You're going to kill off my terrible teachers and all the social network humblebraggers I know? How … great?
"Stop playing dot org." —It's hard to pick just one of Tamar Braxton's insult URLs.
" … a Muppet of a man." —The best line of one of the best songs in the darling Muppets movie. It's not quite "somebody's getting married," but what is?
"Tween wave." —It's music that sounds like farts the moment you age out of its target bracket. Thank you for finally giving us a word for this, South Park.
"Fuck this shit!" —Claire Danes will probably be nominated for an Emmy for her work on Homeland, but there was no moment quite so fun as her screaming at her mentor, played by Mandy Patinkin.
"You is kind, you is strong, you is important." —The Help has its flaws, but Viola Davis's performance is just about perfect.
"Ding ding ding ding!" —Hector Salamanca's last words might not have the resonance of "I am the one who knocks!" but his explosive exit still knocked our socks off.
"Adorkable." —Fox's portmanteau tagline for New Girl took on an anti-message almost immediately, and now it's permanently, derisively attached to scare quotes.
"This is aaahr time." —Poor Kenny Wormland. That Footloose remake barely stood a chance.
"That shit cray." —Narrowly edging out "going HAM," Watch the Throne's catchiest catchphrase was apparently uttered 2,184 times during Jay-Z and Kanye's shows.
"Me and my boo[f]." —Was Beyoncé talking about her "boo" or her "boof" in the endlessly appealing "Countdown"? With a video this wild, who cares?
"It is their most absolute law." —And with that line, Breaking Dawn justifies an obscure werewolf regulation that when one teen wolf falls for the baby of his longtime crush, said baby can never be harmed. So ridiculous, and yet such a great argument ender in real life. ("Sorry Billy, bedtime is always at 8 p.m. It's our most absolute law.")