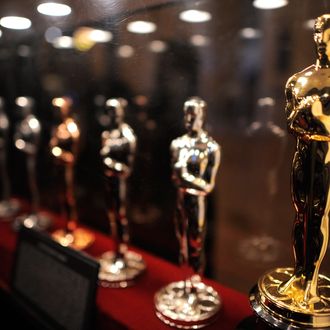 It's here, waiting, John Williams.
Photo: Jemal Countess/2011 Getty Images
The Academy has revealed the 97 Oscar-eligible contenders for Best Original Score at the 84th Academy Awards in February. Among the candidates are War Horse and Tintin, by five-time winner John Williams, and Trent Reznor and Atticus Ross, who composed The Girl With the Dragon Tattoo. Oscar-nominated composer Mark Isham has three films eligible for the trophy — The Conspirator, Dolphin Tale, and Warrior.
To be considered for a nomination, the original score "must be a substantial body of music that serves as original dramatic underscoring, and must be written specifically for the motion picture by the submitting composer," Deadline notes. And all of the nominees for Golden Globes for Best Original Score are in the Oscar hunt: The Artist (Ludovic Bource), W.E. (Abel Korzeniowski), Hugo (Howard Shore), plus War Horse and The Girl With the Dragon Tattoo. Nominations will be announced on January 24. Guilty robot pleasure Real Steel, composed by Danny Elfman, is in the field too.