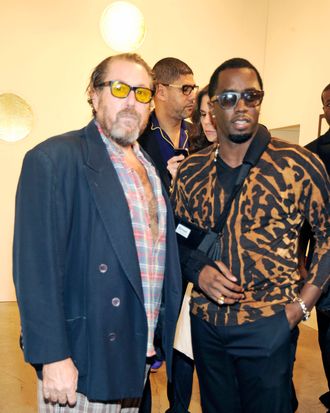 Julian Schnabel and Diddy at Art Basel.
Photo: Rabbani and Solimene Photography/2011 Getty Images
Over the past decade, the Art Basel Miami Beach extravaganza — the art fair and the hundreds of events around it — has made a name for itself as a tropical Woodstock for the wealthy, a weeklong immersion in art, partying, and big spending. Its latest iteration ended yesterday, and it was as notable for what was missing — political art, photography, market confidence, and, by and large, free food — as for what it had, which was a dotting of great art; an incredible, nonstop bacchanalian energy; and what hoteliers and art-fair managers say was the greatest invasion of celebrities Art Basel has ever seen.
In a tent at the edge of the Atlantic, Owen Wilson, Adrien Brody, Brett Ratner, and friends danced to Foster the People's "Pumped Up Kicks" as a semicircle of cell-phone cameras flashed with every beat. P. Diddy, in Ferrari shades and a leopard print, and Pharrell hung out at the main art fair in the booth of the Paris-based Emmanuel Perrotin Gallery, and were soon joined by Naomi Campbell. Daniel Boulud strode the aisles with pal James Rosenquist, Lance Bass bogarted the open bar at the Visionaire party, Real Housewife of New York Ramona Singer tried to be recognized, and musicians of varying degrees of timeliness were plentiful: Robin Thicke, Theophilus London, Alanis Morissette, Paul Shaffer.
Purists complain that these visiting stars are often more interested in being seen than buying art — "don't mention Paris Hilton was here" begged one art-fair publicist — and that they boost the number of would-be crashers and, even worse, entourage members and towering bodyguards at every party. At a hugely popular P. Diddy fête at Mr. Chows, the aisles were tightly packed with guests' muscle, preventing the easy schmoozing at Art Basel common a couple of years ago. Thursday night at the W Hotel's Wall nightclub, guards barked "Move five steps back! Move five steps back!" and those who fought their way in found Vito Schnabel, Catherine Zeta-Jones, and Michael Douglas, and a crowd with more than a few men of Douglas's vintage. Entering SoHo Beach House was much like airport security, except the guards were in faux Prada. "Where are their German shepherds?" joked one prominent dealer who was unwarmly welcomed. An organizer estimated that of the nearly 900 guests at a lush Vuitton event there, 100 were crashers.
The celebs who do buy art tend to know what they are doing. Alex Rodriguez is a frequent guest in the auction houses' private client rooms, Val Kilmer was at the fair shopping for his spectacular sculpture garden in New Mexico, and Diddy is rumored to have bought a Tracey Emin, an artist of whom Über-collector Charles Saatchi was an early champion. But many complain that the stars upend the art world's status pyramid. At SoHo House one afternoon, Art Miami fair director Nick Korniloff waited patiently for a table only to see Will Smith ushered to it. He recounted that he asked Smith to show up at his fair in karmic payment the following day, "and he did!" "You have a who's who of the celebrity world coming to Miami Beach to become part of the art scene" says J.P. Oliver, who oversees the Morgans Group hotels in Florida; their Mondrian hosted the screening of Harmony Korine's film Caput starring James Franco. Oliver says the celebs are just proof that ABMB is now as much about "design, fashion, and nightife" as it is about art, essentially following the same inevitable path that Sundance paved.
However, for all of the famous faces that were gawked at, perhaps the most memorable image came at the Fontainebleau Hotel Saturday night. Guests who swept in through its revolving doors were greeted by the giant projected image of Chinese dissident artist Ai Weiwei, designer of the resort's huge gleaming chandeliers. (They were dimmed for a moment in tribute to the artist, who remains under house arrest after months in prison.) At the end of a weeklong event that had been otherwise too free of politics or meaning, a banner flashed that read: "I wouldn't say I've become more radical. I was born radical.  —Ai Weiwei." One can only hope that Diddy isn't in the midst of appropriating that for a T-shirt.