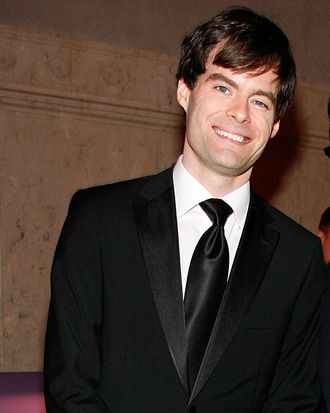 Bill Hader.
Photo: Andy Kropa/2011 Getty Images
Bill Hader's "city correspondent," Stefon, has quickly become a Saturday Night Live staple (even if he still has several more appearances to make in order to join our list of SNL's most recurring characters), but last night, Stefon turned up at an unusually upscale event: A Funny Affair for Autism at the Plaza Hotel. At the black-tie benefit, which raised over $1.3 million for Autism Speaks and New York Center for Autism, Seth Meyers prompted a Stefon-channeling Hader to recommend some holiday clubbing, and though the crowd was perhaps too wealthy to slum it as Stefon's parties of choice, we've dutifully transcribed their conversation so that Vulture readers will have their fair share of eccentric Christmas activities, should they so choose. Enjoy!
Seth Meyers: It's the holiday season and a lot of tourists are going to come to New York for the first time and they're going to want to do things that are very New York-y, so for that, I'm very excited tonight to bring out Weekend Update City Correspondent Stefon.
Bill Hader: Hi.
Meyers: Thanks so much for being here.
Hader: I got to meet Jerry Lewis backstage. 
Meyers: You're thinking of a different benefit. Jerry Lewis isn't here.
Hader: Right, it was probably just a pumpkin with a shoe polish wig.
Meyers: So, Stefon, a lot of these folks want to see the quintessential New York Christmas. Do you have any tips on where they should go?
Hader: Yes, if you're in town for Christmas, I've got the place for you: New York's hottest club is Eeeeeennnnnhhhhh. This party literally has everything: scabies, a Russian guy who runs on a treadmill in a Cosby sweater, and for Christmastime, they have a bodega cashier playing carols on a harpsichord. 
Meyers: I'm sorry, a bodega cashier?
Hader: Yeah. And before he plays each key, he touches a little wet sponge. So come to Eeeeennnnhhhh, where the only dress code is Aztec nudity.
Meyers: Oh, I'm sorry, what's Aztec nudity?
Hader: It's like that Apocalypto thing where your ass is covered by a square.
Meyers: Stefon, this is a black-tie event. Folks paid a lot of money to be here. Do you know about any things that might appeal to this crowd that's less young, drugged-out, and gay?
Hader: More old, drunk, and closeted? [Uproarious laughs from audience.]
Meyers: Yeah. Exactly.
Hader: If you're black or wear a tie …

Meyers: We're off-track now.
Hader: … I've got the place for you. New York's hottest gala is an annual charity dinner for the flaccid group, Doctors Without Boners.
Meyers: Doctors Without Boners?
Hader: Yeah, yeah. This black-tie gala has everything: quiches, stingrays, CLIO awards, a Japanese woman screaming at her daughter that she can't go to a sleepover. After dinner, hit the dance floor with the Labrador Moonwalk.
Meyers: And I'm sorry, what is the "Labrador Moonwalk?"
Hader: It's that thing when a dog makes hot piss on cold sidewalk and then kicks his legs back.
Meyers: This is a charity event! [That raises money] for kids!
Hader: We raise money by auctioning off great prizes like human boomboxes. 
Meyers: What's a human boombox?
Hader: It's that thing when you carry a midget over your shoulder and he's singing gangsta raps.
Meyers: Stefon! There are a lot of important people here from media, finance, and more, and I promised them some New York comedy magic. 
Hader: If you want comedy magic, just go to the Christmas Tree —
Meyers: Oh, the one at 30 Rock?
Hader: No, the one at 30 Cock. It's run by an old drag queen named Tina Gay and Alec Baldwin.
Meyers: The real Alec Baldwin?
Hader: What can I say? The guy's got a lot of irons in the fire. Care to go with me?
Meyers: I just might.
Hader: Happy Holidays!