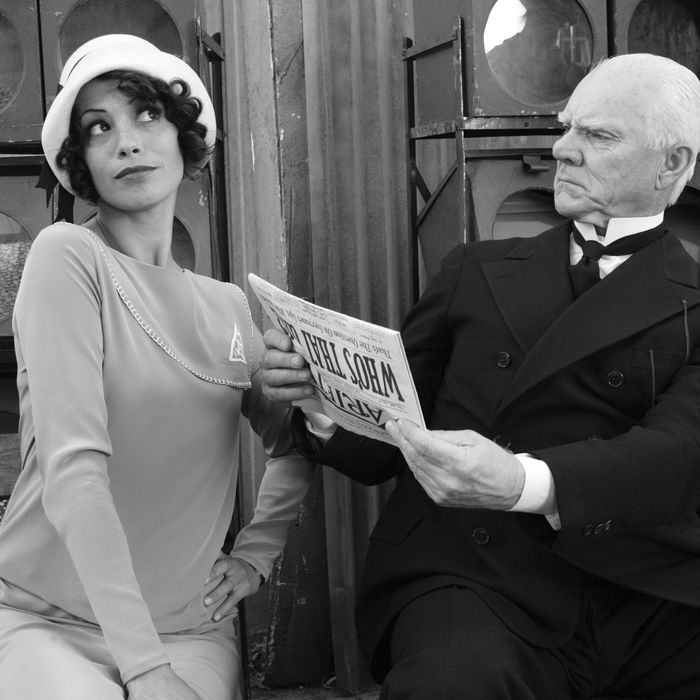 How things have changed during this awards season! Just two weeks ago, films like The Artist and The Descendants were considered to be a crop of Oscar flicks so mild that the front-runner position was anyone's for the taking, but since then, The Artist has locked up crucial support in a flurry of Oscar precursors (which you can review on Vulture's brand-new Oscar page) and is now considered the film to beat. Still, if things could change once, they could always change again, right? Late-arrival films like The Girl With the Dragon Tattoo and Extremely Loud and Incredibly Close haven't had much luck dislodging The Artist from the No. 1 position, but there are still five other films in contention that could craft a compelling come-from-behind narrative. What would need to happen with each to make it a real race?
The Descendants
In Its Favor: A bedrock of critical support. It's perceived to be the "smart choice" of the legitimate Oscar contenders, though it can also boast a lot of emotion and heart as well. George Clooney is considered to be a Best Actor front-runner, though in that category, too, he's battling it out with Jean Dujardin from The Artist.
What Needs to Happen: Golden Globes wins in Best Drama and Best Actor are a high-profile must, though they'll hardly derail The Artist, which is nominated separately in the Comedy/Musical categories and will probably win there. The No. 1 thing The Descendants could use is more momentum for director Alexander Payne, who's been crowded out of the precursors by The Artist's Michel Hazanavicius and Hugo's Martin Scorsese. A Globe win over both of those rivals would give him some helpful face time.
The Help
In Its Favor: Still the biggest box-office hit of all the Oscar contenders (though we'll see what happens with War Horse). It's got a sprawling, well-liked cast and is very likely to snag three acting Oscar nominations and, potentially, the SAG award for Best Ensemble. Oscar voters like films whose subject matter feels "important," and it's not difficult to see how an organization that gave Crash its top prize would go gaga for a film about many of the same themes that's arguably better made.
What Needs to Happen: In a nutshell, Tate Taylor needs to happen. The director of The Help hasn't gotten much awards attention this season, but without an Oscar nomination for Best Director (in a category that could be filled with venerated veterans this year), The Help will have its work cut out for it. Only three films have ever won Best Picture without also picking up a Best Director nomination, and the last one was Driving Miss Daisy over twenty years ago.
Midnight in Paris
In Its Favor: Woody Allen is an Academy favorite, and this is his most successful movie ever. Both SAG and the Golden Globes showed love to the summer hit, and Allen even made the competitive Globes short list for Best Director (while Owen Wilson squeezed into the Best Actor category, which is a little easier to do since the Globes split Best Actor into separate comedy and drama distinctions). It had the summer nearly all to itself to solidify it as a strong, beloved contender.
What Needs to Happen: A nod for the movie's underrated Corey Stoll (who played Hemingway) wouldn't hurt. Alas, he was left out of the SAG roll call for Best Ensemble thanks to the organization's fussy rules about who qualifies. Allen himself has no interest in campaigning — and never has — but a solid "remember how much you loved Midnight in Paris" push from the studio could pay dividends.
War Horse
In Its Favor: It's Steven Spielberg making a war movie that's practically engineered to pull tears. The film still hasn't come out yet, so no one can accuse it of peaking, and if it becomes a word-of-mouth box-office blockbuster, that could change the game significantly.
What Needs to Happen: Most Oscar prognosticators have now seen War Horse, and few are in love. The Academy's tastes run more Horse-friendly than those jaded journalists, but even the Golden Globes denied Spielberg his assumed Best Director nod. Horse will need to sprint to the front of the box-office field to start pulling away from the pack (luckily, it'll be out in wide release during a very crucial corridor of awards voting).
Hugo
In Its Favor: Practically dismissed at its work-in-progress New York Film Festival premiere, Hugo has suddenly become a critical sensation, pulling in several high-profile nods from Oscar precursors as well as Best Picture and Best Director nominations from the Golden Globes today. Affection for Martin Scorsese is so notable that he's got a real shot at winning the latter.
What Needs to Happen: That Golden Globes win needs to happen, since unfortunately, Hugo was shut out of SAG. Ben Kingsley hasn't gotten much traction in the Best Supporting Actor category, but films rarely make a go at Oscar gold without at least one acting nomination. A successful push for Kingsley's work as filmmaker Georges Méliès could position Hugo as a real dark horse threat.