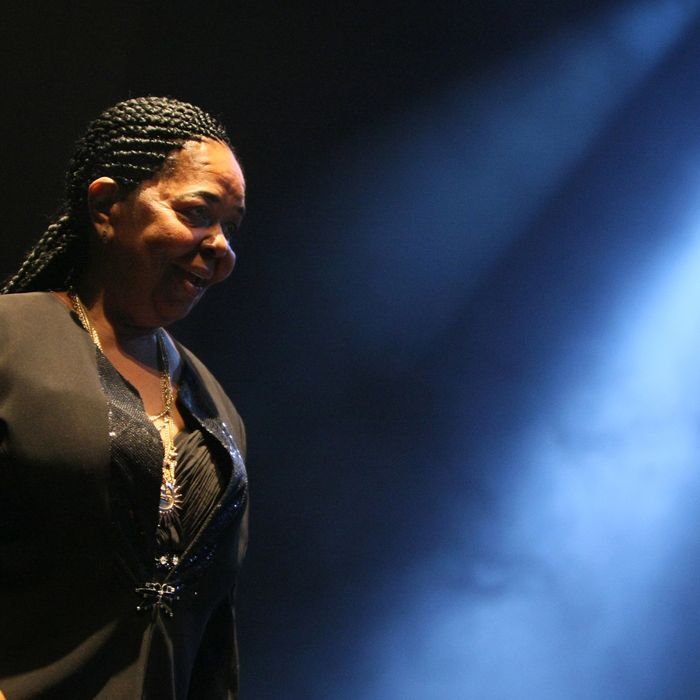 The 'barefoot diva' in concert — Paris, 2009. (THOMAS COEX/AFP/Getty Images)
Photo: THOMAS COEX/2011 AFP
Cesária Évora, better known as the 'Barefoot Diva' for her habit of always performing shoeless in solidarity with her native Cape Verde's poverty, has died at the age of 70 on her home island of São Vicente. Évora first mastered the soulful bittersweet morna singing style — a close relative of the haunting Portuguese fado ballads originally sung by sailors' wives — as a teenager singing at bars in the port city of Mindelo where she grew up. Only later in life, after a decade-long hiatus, did she earn wide praise and comparisons to American jazz legend Billie Holiday and Edith Piaf's quiet raspiness. In 2004, she won the World Music Grammy for her album Voz D'Amor (or "voice of love").
But for all her world fame, Évora was unapologetically rooted in her small, struggling island nation off the coast of Senegal. "In Cape Verde, lots of people are like me," she told the Washington Post in 2001, "They just don't like to wear shoes." Speaking to HeadButler.com's Jesse Kornbluth almost a decade ago, she said: "Whatever the rest of the world may think of me now, I was always considered a great singer at home. But we all know each other. There's no 'stardom' in Cape Verde."
While the cause of death remains unknown, Évora had recently suffered a stroke and undergone open-heart surgery — she was also an inveterate smoker and would often take a break mid-concert to sit at a table (onstage) and smoke a cigarette.
There is a word in Portuguese, saudade, that is often translated as "I miss you," but in reality carries a lot of baggage that is unique to Portugal and its former colonies. It is more a mournful sense of loss, nostalgia for a past that may, very likely, never be revisited. Below, Cesária Évora's (fitting) paen to saudade.