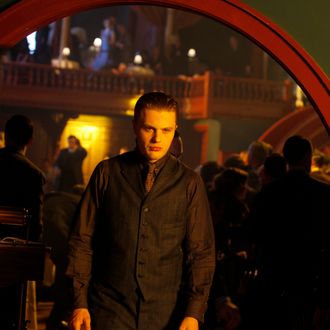 Photo: Patrick Harbro/HBO
More people may be talking about TLC's All-American Muslim online than actually watching it. Per Nielsen, Sunday's episode of the unscripted series drew just 908,000 viewers at 10 p.m., with 77 other shows airing on cable Sunday night drawing a bigger crowd.  Among viewers under 50, Muslim averaged a weak 0.3 rating; it did better in TLC's target demo of women ages 18-49, earning a 0.5 (good enough for No. 32 among all cable shows in prime-time Sunday in that group). What's more, the show's numbers don't seem to be getting a lift from all the attention: Muslim has actually declined in the adults 18-49 demo over the past three weeks, falling from a 0.5 demo score on November 27 to a 0.4 last Sunday. Its November 13 premiere, which was boosted by an original Sister Wives lead-in, averaged a 0.9 in the demo. Does this mean a second season of Muslim is a long shot? Perhaps, particularly since when you include post-Sister episodes, ratings for Muslim were actually fairly strong.  In addition, TLC might want to order another round of episodes to make sure it's not seen as caving to the wingnuts. Don't be surprised if a Season 2 features the Muslim cast experimenting with multiple births/wives, or perhaps dabbling in hoarding. Want more Nielsen nuggets? Read on for a ratings updates for several other Sunday and Monday cable shows:
• It was a mixed bag for HBO Sunday night. Boardwalk Empire ended its second season with a season-high 3 million viewers. Unfortunately, that was down 10 percent from the show's Season 1 finale, indicating Boardwalk won't have the same upward trajectory of many past HBO shows that added audiences in latter seasons. We're not sure what to make of the network's results at 10 p.m. Sunday, where a special "preview" of Luck lost two-thirds of its lead-in and averaged just over 1 million viewers. It's true that HBO did not heavily hype the broadcast (there was no off-air advertising), but the drop-off may indicate a lack of substantial interest in the horse racing drama. On the other hand, HBO has a month to sell the show to viewers, and one could argue that those who tuned in last night could simply serve as evangelicals preaching the merits of the show to other potential viewers.
• AMC's Hell on Wheels continues to lose steam with viewers. Sunday's sixth episode averaged 2.2 million viewers, roughly half of the show's series premiere last month. But the real exodus has come among the all-important under-50 crowd. Hell debuted with 2.4 million viewers ages 18-49, then slipped to 1.6 million by its third week. This week? It managed a mere 805,000 viewers with its initial telecast, which means it's surrendered two-thirds of the crowd that initially sampled the Western. In fairness, early episodes of the show benefited greatly from a massive The Walking Dead lead-in, and the overall audience for the show remains okay. A second season of the show, however, is far from a sure thing.
• Perhaps A&E should have called it Stephen King's Storage Wars. The network's four-hour King mini-series Bag of Bones delivered a sackload of disappointment. Sunday's Part 1 averaged 3.3 million viewers and a 1.2 in viewers under 50; Monday's conclusion drooped to 3 million viewers and fell 33 percent in the key demo, to a 0.9. The latter number is particularly embarrassing, since Tru TV's Lizard Lick Towing managed to outdraw the expensive A&E mini in the younger demo. What's more, A&E's own Storage Wars: Texas just debuted to over 4 million viewers, while the network's even bigger hit, Storage Wars, often surpasses 5 million viewers. At least A&E got a cool website out of the deal!
• Finally, no big bump for HBO's little-noticed (but well-reviewed) Enlightened. We're waiting for HBO to supply us data, but we do know the show failed to crack Nielsen's top 100 cable broadcast list in adults 18-49.