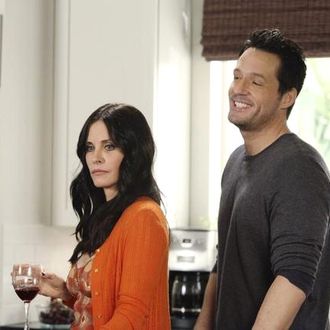 COUGAR TOWN - "You're Gonna Get It" - When Bobby leaves his lucky golf visor behind on the eve of his big professional golf tournament, Jules sends Travis along with the cap to look after his dad and Andy, on ABC's "Cougar Town," WEDNESDAY, APRIL 27 (9:31-10:00 p.m., ET). Meanwhile, Jules tries to overcome her biggest fear - public humiliation - and Ellie and Grayson are astounded at how good Laurie is at a game of trivia. (ABC/DANNY FELD) COURTENEY COX, JOSH HOPKINS
Photo: Danny Feld/? 2011 American Broadcasting Companies, Inc. All rights reserved.
Bill Lawrence is organizing viewing parties for Cougar Town, because if you can't actually be on television, at least a party is fun. He's been tweeting about the gatherings for about a week, and now he's announced that the parties in Sarasota, Louisville, and Atlanta will be on December 27, and that he's working on events in L.A., New York, Boston, Phoenix, Austin, San Francisco, San Diego, Philadelphia, and Chicago, among other places. "Yes, there will be at least one regular cast member and writer at every venue, plus screenings, plus prizes," he says, and "yes, new episodes will be shown." Lawrence says these festivities "are not ABC events" but rather "'Bill and Kevin [Biegel] are idiots' events." This leaves but one crucial question: What does one call a gathering of Cougar Town fans? A Cul de Sac? A Vineyard?