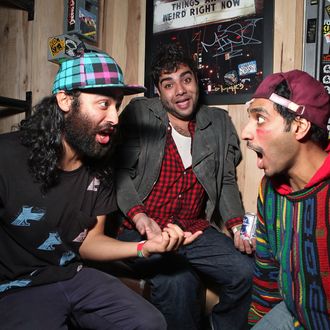 Photo: Roger Kisby/Getty Images
Rather than have Das Racist put together their own year-end list, Self-Titled asked Heems, Kool A.D., and Dapwell to share their thoughts on 25 of 2011's top songs. Predictably, the results are hilarious. For example, here are their thoughts on Azealia Banks's "212": "Heems: This is cool. Kool A.D.: She kind of sounds like Bart Simpson. So does Kreayshawn, actually. The first lesbian rapper was Bart Simpson."
And here they are on Drake's "Lord Knows":
Dapwell: That album is big.
Kool A.D. : Like, a big movie.
Dapwell: Like a big, bad movie.
Kool A.D.: It's like Conan the Barbarian in 3D. Actually, it is kind like Drive—the black Drive.
Dapwell: Half-black Drive.
Kool A.D.: No, three quarters black Drive if you tally it up. Actually, wait…
Dapwell: Whatever, Drake sucks."
On Childish Gaminbo's "Bonfire":
Heems: This is good and very fun.
Kool A.D.: I really like Donald Glover's performances on Community.
Dapwell: I hope this shit takes off because that shit got cancelled.
On Bon Iver's "Calgary":
Kool A.D.: If a girl put this on to have sex, I would be like, really?
On Lana Del Rey's "Video Games":
Dapwell: This shit sucks. And I am not just saying that. I heard someone playing it before I even read about her. And I was like, "what is this shit?" Ugh, this song sucks so bad. I hate this feeling.
Heems: This song was created in a future world.
Dapwell: Where everything sucks.
Heems: That is fake, plastic, and manufactured.
Kool A.D.: When I first heard her, I thought she played music like Amy Winehouse.
Heems: Wish you played Cass McCombs.
Kool A.D.: But I guess she makes something different.
Dapwell: It's cracker, white, dumb, fake nostalgia throwback shit. It's kind like "what do you think about me punching you in your intellect?"
Kool A.D.: It's a'ight. She has a cute, flirty way about her. She's playing dumb.
Dapwell: I want to stick "contrived garbage" in there too.