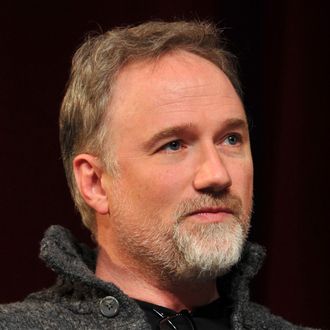 David Fincher.
Photo: Alberto E. Rodriguez/2011 Getty Images
New Yorker film critic David Denby ruffled Hollywood feathers over the weekend when he vaulted ahead of an agreed-upon embargo date to post the very first review of the highly anticipated The Girl With the Dragon Tattoo. Producer Scott Rudin promptly and tersely called him out on it, though Denby tried to explain: Oscar-caliber movies pile up so suddenly at the end of the year that he needed to give Dragon Tattoo his full attention, and besides, he certainly wasn't going to cover We're Zoo Owners Now or whatever that mawkish new Crowe is called. But what does Dragon Tattoo director Fincher think of the embargo imbroglio? Today he told the Miami Herald's Rene Rodriguez, "As silly as this may all look from the outside — privileged people bickering — I think it's important."
"Embargoes … look, if it were up to me, I wouldn't show movies to anybody before they were released. I wouldn't give clips to talk shows. I would do one trailer and three television spots and let the chips fall where they may. That's how far in the other direction I am. If I had my way, the New York Film Critics Circle would not have seen this movie and then we would not be in this situation. I would be opening this movie on Wednesday Dec. 21 and I would have three screenings on Tuesday Dec. 20 and that would be it.

"That's where [Rudin] and I get into some of our biggest fights. My whole thing is 'If people want to come, they'll come.' But they should be completely virgin. I'm not of the mind to tell anybody anything about the movie they are going to see. And that kind of thought is ridiculous in this day and age. But by the same token, when you agree to go see something early and you give your word – as silly as that may sound in the information age and the movie business – there is a certain expectation. It's unfortunate that the film critic business has become driven by scoops.

"Ultimately, movies live or die by word of mouth anyway. All that other stuff doesn't matter. Nothing against film criticism. I think film critics are really valuable. But the most valuable film critics are usually those people who come see a movie with their Blackberry and then text their friends 'It sucked.' or 'It's awesome. You should see it.' You know what I mean?"
That said, it won't be long before the actually sanctioned reviews start pouring in: The embargo is set to elapse on December 13.