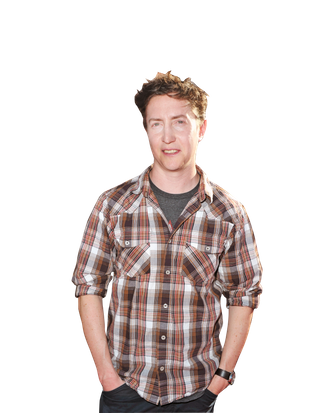 David Gordon Green.
Photo: Alberto E. Rodriguez Images/Getty
Though he built his name with dramatic indie films like George Washington and All the Real Girls, chances are you probably know writer-director David Gordon Green from his more recent comedic work, such as Pineapple Express or the HBO series Eastbound & Down. Green holds to this course on his latest film, The Sitter, a high-jinks-filled tale of babysitting gone awry starring Jonah Hill. (Think Adventures in Babysitting for a more profane generation.) Vulture recently sat down with Green to talk about Jonah's range, getting creeped out by young actresses, and movie nostalgia.
What appealed to you about a babysitting story?
It reminded me of the eighties movies I grew up with. I'm very much a sucker for anything that appeals to my youth. It had a lot of elements of movies like Risky Business, After Hours, Something Wild, Adventures in Babysitting, and Uncle Buck. There's not a whole lot that's very contemporary in the movie. Most of my films don't really exist in the moment that they're released. I feel like I usually engineer movies for 11-year-olds, and then it takes them until they're about 19 or 20 to really start vocalizing their appreciation for the movies.
How did you get Jonah onboard?
I had just seen Cyrus at Sundance, and Jonah and I were at the after-party. We'd both read the script and were sharing a lovely bottle of Patron. We started talking about projects to work on together, and this one came up as something we were both enthusiastic about.
What was it like working together?
We've been friends since I met him on the set of Superbad, and we were big movie nerds, so we'd just talk about movies all the time. After seeing Cyrus, I was really excited that he had some dramatic texture he was bringing to his roles. It allowed us to not make just a one-note, broad comedy out of this script, but try to show some darker, eccentric, even dramatic elements, of not only his character but the whole story. This is the first time I've ever made a movie someone wanted me to make. Every other movie is like, I had to murder people to get it done. Jonah and I laid the groundwork of the environment and the circumstances that we wanted to make the movie in. That was really exciting, coming off a series of — not necessarily just stressful projects, but movies that were really brutal productions. Trying to make movies that felt like they cost $100 million, when they were very modestly budgeted. This one — finally — we were in a comfort zone, financially, where the budget reflected what we have, and the time reflected what we should have, so it was actually a chance to have fun making a movie.
How was it to work with kids?
When actors start coming in, you immediately kind of weed out the obvious ones. There was a lot of very obvious sitcom-y kids coming in, and those became uninteresting immediately. Kevin Hernandez was the only kid that didn't come in with goofball faces. And then Landry Bender was the first kid that didn't come in and creep me out. We saw hundreds of actors for the role of Blythe [the young girl in the movie], and you could see the stage mom out in the parking lot giving harsh lessons on life before the kids would come upstairs with their makeup on.
Much of your recent work has been in comedy and differs greatly from the dramas you started your career with. Why the change?
Well, people that know me personally know that I'm much more of a complicated guy and that I have a lot of other interests outside of one specific category of film. After having done a series of comedies, there's nothing I want to do more than exercise other genres and make a documentary or a horror film, or something that I haven't done before. Right now I'm adapting a book that's a love story, but it's set within a science-fiction premise. And [what] I'm most excited about is a horror movie that I've been trying to get made for four years, what I hope to be a very provocative and elegant genre movie. We'll see if anybody will go for it.
What are you learning working on all these different types of films?
Sometimes you love what you did but other people hate it, or vice versa. That's a conflict I have, not only with myself but with the audience: That the role you have as a filmmaker is [in part] communicating with an audience, trying to sell them on something that you're passionate about. I'm not a sort of psychiatrist or real commercial strategist or marketing head or anything, but it is a fascinating world to expose yourself to. My first four films cumulatively made under a million dollars. Pineapple Express, the midnight before it opened, made more than that. That's inspiring and depressing. On the one hand, you're like, "Fantastic, I got a hit movie coming out." And on the other hand you're like, "But what about the ones I've slaved over, and poured my heart out to make, and nobody went to see?"