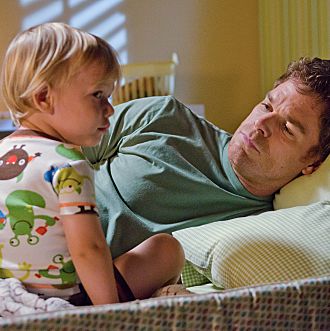 Dexter
This Is the Way the World Ends
Michael C. Hall as Dexter (Season 6, episode 12-season finale).
Photo: Randy Tepper/Showtime
Say what you will about Season 6 — and the consensus seems to be that this has been the most inconsistent and possibly the worst Dexter chapter of all — the final moments of last night's finale felt like redemption. Sure, there were still plenty of the obvious plot holes that have plagued the show recently and almost no attention was paid to anyone other than Travis, Debra, and Dexter (this episode could have also been titled "Getting Travis Marshall"). But though it was inevitable that Deb would one day meet Dexter's dark side, the questions of when and how have been looming large. As Season 4 will be remembered as the John Lithgow season, a.k.a. When Rita Was Killed, Season 6 of Dexter has become When Debra Learned Her Brother Was a Killer, a.k.a. When Debra Also Realized She Wants to Make Sex With Her Brother. As spectacular as some of those tableaus were, DDK now feels like a footnote.