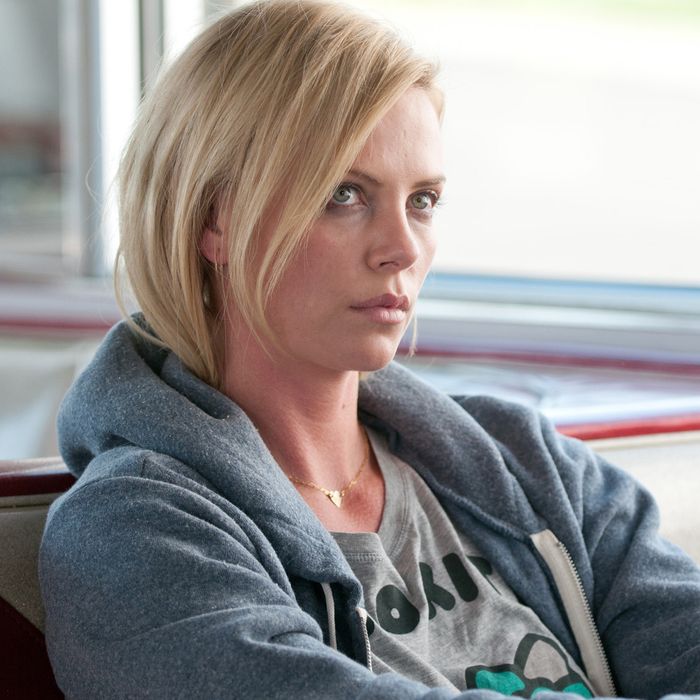 Photo: Phillip V. Caruso/? 2011 Paramount Pictures and Mercury Productions, LLC. All Rights Reserved.
The Charlize Theron dark comedy Young Adult opened wide this past weekend, but the release was sort of a hedged bet: Unlike the slowwww, months-long expansion of The Descendants, Paramount pushed Young Adult into nearly a thousand theaters after teasing it in just eight last week. The box-office results were inconclusive, but for those of us who've seen it, this spiky reteaming of director Jason Reitman and screenwriter Diablo Cody still gave us plenty to talk about afterward. Let's stuff our yippy little dogs in our purses and convene a meeting of the Monday Movie Club, but beware: There will be spoilers.
Where does Charlize Theron rate in the 2011 pantheon of comic bad girls?
It's been a good year for women who go bad. After Kristen Wiig played a bracing mess who often does the wrong thing in Bridesmaids, Cameron Diaz upped the ante with her character in Bad Teacher, a woman who gleefully embraces her worst qualities in the pursuit of snagging both a sugar daddy and a boob job. While watching Young Adult, you can tell how giddy Charlize Theron and Diablo Cody were to craft a woman that dares the audience to dislike her, but to judge from this weekend's so-so box-office take, did they succeed only too well? Where's the fine line when it comes to a lead character's misbehavior?
Let's discuss the nineties alt-rock soundtrack.
Teenage Fanclub! Suicidal Tendencies! Young Adult has a very specific mixtape sensibility, and while it does include the easy layup of "What's Up" by 4 Non Blondes, it's nice to revisit the nineties through a soundtrack that has more to offer than just "Remember Semisonic? Remember Spin Doctors?"
What was up with Patrick Wilson and Elizabeth Reaser?
A whole lot of Young Adult's comic kick comes from how transparently heinous Theron is in her attempts to win old love Wilson away from his wife Reaser. Still, at times while watching the movie, we wondered the same thing we often think during Santana's admittedly well-written insult monologues on Glee: Why isn't anyone reacting to her? Both Wilson and Reaser let Theron's catty comments land like dopes, and though Reaser eventually explains that they were tolerating Theron because they felt sorry for her, their motivations seemed awfully opaque. Would you really invite your husband's unstable ex to a party for your child, knowing that she'd pull focus so severely? As for Wilson, after he sorta-kinda kisses Theron back one late night, why does he act so oblivious to her advances the next day?
How do you rate the movie's Oscar potential?
With this movie's pedigree — two Oscar winners in Theron and Cody, and one multiple nominee in Reitman — it was inevitable that there'd be Oscar talk surrounding it, and Reitman's decision to keep the movie out of all the fall film festivals (supposedly a course correction after he felt that his festival darling Up in the Air peaked too early in awards season) would seem to confirm that the filmmakers had Oscar hardware in mind. Alas, Young Adult hasn't gotten much recognition from the usual Oscar precursors, and to be honest, we liked the movie precisely because it's a bit too modest for the Academy Awards: There's no fumbling attempt to invest its small-scale story with any of the usual Oscar grandeur or capital-M meaning. We certainly respected the efforts of Theron and Patton Oswalt, but what we loved even more was that the movie is swift and occasionally nasty and it's over before you know it.
The ending.
Near the end of Young Adult, Reitman and Cody go Ghost World: Mavis sleeps with the nerd who has not-so-secretly desired her, then skips out of town, leaving several relationships unresolved. Much has been made of the fact that Mavis avoids the usual character-arc epiphany, and though she acts out in major ways during the third act, she doesn't appear to be a significantly changed woman after the dust settles. Is that a refreshing change from the usual, or were you surprised that Mavis never got some sort of comeuppance?