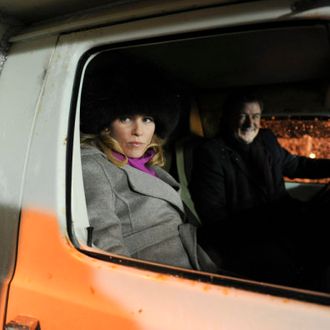 30 ROCK – "Double-Edged Sword" Episode 514 – Pictured: (l-r) Elizabeth Banks as Avery Jessup, Alec Baldwin as Jack Donaghy – Photo by: Ali Goldstein/NBC
Photo: Ali Goldstein/? NBCUniversal, Inc.
When news of the North Korean dictator's death broke last night, a subset of the tweeting masses immediately focused in on the danger confronting 30 Rock's Avery Jessup-Donaghy (played by Elizabeth Banks). Avery, as you may recall, was kidnapped by Kim Jong-Il while on assignment for NBC's "Hot Blondes In Weird Places" initiative; she was married off to his son and successor, Kim Jong-un, after Jack's failed attempts to rescue her. What does this regime change mean for Avery, many fans wondered, and would Avery ever make it home? Banks herself weighed in: "Appreciate all the concern for Avery Jessup's fate now that Kim Jong-Il has died. We're at a pivotal moment in history." Okay, but is Avery the new First Lady of North Korea or not? Can someone get Baldwin on this? The world needs answers.