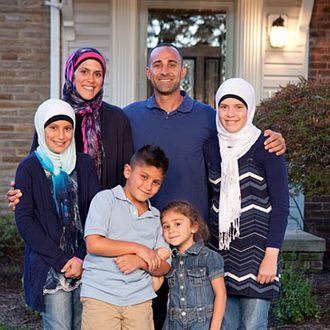 The Zaban Family. (Adam Rose/Courtesy of TLC)
Photo: Adam Rose/?Discovery Communications LLC
A lot of attention has been swirling around TLC's All-American Muslim reality TV show — which recently premiered to less-than-stellar ratings — in the wake of Lowe's and travel website Kayak.com pulling their advertising. (Lowe's has since said it's sort of sorry if, somehow, it hurt anyone's feelings.) The companies were acquiescing to a protest campaign from a group called the Florida Family Foundation, which sounds like any number of mainstream conservative Christian organizations — Focus on the Family, Florida Family Action — but is actually, per yesterday's Times, the brainchild of one David Caton, a born-again Christian who's previous iterations included stints as an accountant, rock-club owner, and author of a book about his own pornography addiction.
Below is a totally level-headed little snippet pulled from the petition and e-mails that the group has been sending to advertisers.
The Learning Channel's new show All-American Muslim is propaganda clearly designed to counter legitimate and present-day concerns about many Muslims who are advancing Islamic fundamentalism and Sharia law.
Although Lowe's seems to be the only major corporation duped by Caton's drive, the Florida Family Foundation's website claims that actually 75 companies pulled their advertising from the show's recent episodes. "It's literally one dude with a poorly made Web site, one fringe individual with an e-mail list," said Wajahat Ali, a lawyer and essayist who's written about the "Islamophobia Network in America" for the Center for American Progress. "By parroting the talking points created by this incestuous network, he's triggered a national crisis."
National crisis may be a bit much, but Caton is certainly turning into a headache for the networks, targeting, among others, Teen Nick's Degrassi (which "promotes the homosexual and transgender lifestyles and other inappropriate behavior"), Spike TV's Blue Mountain State ("a show about the many perversions of a college football team"), and ABC's Modern Family (happy gay adoptive dads, oh my). And to think that the only tool an anti-Islamic homophobe needs to cause trouble is an Internet connection — scary.
Update: In response to this post, a Kayak.com spokesperson issued the following statement regarding All-American Muslim:
We didn't pull advertising (all our ads completed their full run for the fall), but we decided to not advertise on the program when it returned for the new season in January. We'd really like to reiterate that we did not cave to bigotry, nor are we bigots. We have simply decided to put our ad dollars elsewhere and this was strictly a business decision.