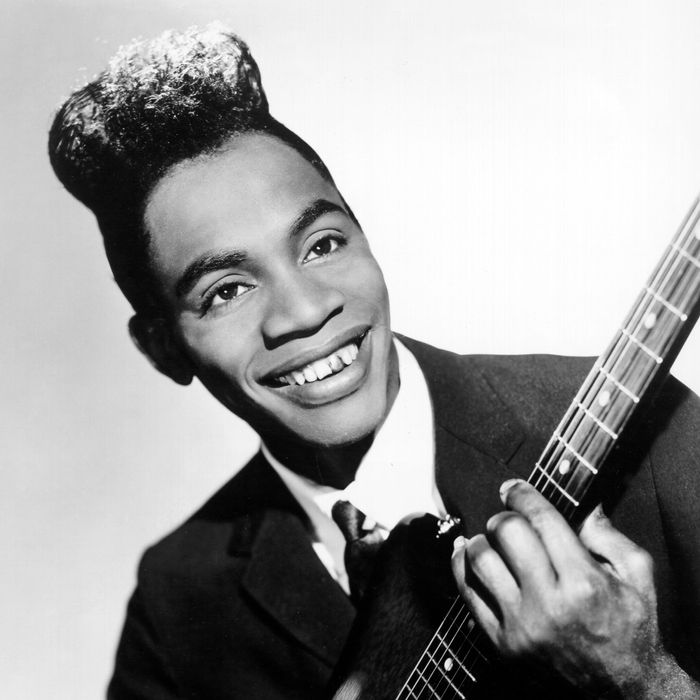 Howard Tate, back in the '60s.
Photo: Gilles Petard/Redferns
Death notices tend to leave things out, and such was the case with yesterday's New York Times obituary of soul singer Howard Tate. 
The general outline was there: As a young singer with a near-unbeatable falsetto/tenor, Tate made a few revered but commercially unsuccessful records in the middle to late sixties, most cosmically the album Get It While You Can, an undisputed masterpiece produced by one of the great soul maestros, Jerry Ragovoy. Tate's tunes were covered by people like Janis Joplin, Jimi Hendrix, Bonnie Raitt, and BB King, but the singer himself remained in obscurity. Sometime in the middle seventies, his career going nowhere, Tate dropped out of sight. No one knew where to find him. Ragovoy feared he was "probably dead." With his whereabouts a mandated vision quest for hard-core soul fans, Tate became the ultimate "Lost Soul" singer. Then, after an absence of 25 years, during which he'd been an insurance salesman, a homeless crack addict, and then a preacher, Tate resurfaced, his fabled voice more or less intact. He reunited with Ragavoy to make a politely received comeback record and continued to perform until his death at age 72.
These were the facts, so to speak, and in this short-form wiki world, the Howard Tate fan could be thankful for them. It is, after all, a heart-warming story in parts, especially when you get to hear Tate's near-immortal voice (we used to argue, for argument's sake, that Tate was as good as Sam Cooke, even though we knew it wasn't quite true) sing Randy Newman's "Louisiana 1927" over images of the Katrina wreckage on YouTube. If Tate had stayed mysteriously dead, like Robert Johnson, that would have never happened. 
Still, when you are compiling an artist's history, the ardent obsession of his admirers — how many hours were spent stalking the used record stores looking for copies of the original Verve edition of Get It While You Can with Tate's higher than the sky conked hair on the blue/purple cover? — is all addenda. So, sticking to the so-called facts, here are some admittedly murky details further Tate obit writers might consider. 
As is so often the case in pop music, especially on the outskirts of the business, the story of how records get made is often more interesting than the music itself. Such is the case with the little-known Tate LP Reaction, which first came out in 1969 on Lloyd Price's Turntable label. Price, a.k.a "Mr Personality," might be in the Rock and Roll Hall of Fame for songs like "Lawdy, Lawdy Miss Clawdy" and "Stagger Lee," but it is his career as a no-holds-barred mover and shaker in the black music world that truly sets him apart. Befitting the man who schooled the young Cassius Clay in self-promotion, Price's handsome photo appeared as part of the Turntable logo, even the 45s. "Everyone said, 'Lloyd will get you your money,'" Tate told me in 2001, explaining his decision to sign with Price, who was then fronting the Lloyd Price Turntable Club on Broadway near 52nd Street. 
Reaction was made in conjunction with two other longtime Price associates, singer Johnny Nash and the legendarily gray market promoter/executive Danny Sims. Among the first Stateside music biz pros to recognize the burgeoning potential of the Jamaican pop scene, Sims and Nash were already seeking to corner the market, working with the then-unknown Bob Marley and the rest of the Wailers. Never blind to a potential next-big-thing, the synergistically minded Price gave Tate some of Marley's ska-era songs to record. Marley tunes like "You Think I Have No Feelings" were first cut by Howard Tate.  
What could have been an influential footnote in the history of pop crossover (the Wailers served as Tate's uncredited backup band) became a blip when Reaction sold almost no copies.  It was another event, however, that would end Tate's association with Lloyd Price's Turntable Records. This occurred in 1969 at the Turntable Club, when Price's partner, the aspiring songwriter turned bookkeeper Harold Logan (together the two had formed L and L Records in Detroit and put out Wilson Pickett's first hits), was shot dead in the club office. At this point, we will have to rely on the possibly not totally reliable account of one Frank Lucas, the infamous drug-dealing American Gangster. As Lucas once told me, Turntable was actually owned by Harlem dope pushers like himself and Zack Robinson. 
"Yeah," said Lucas, who remembered many nights kicking back with some ladies to enjoy Howard Tate's act at the Turntable. "Logan got his. Two bullets in the same hole smack between the eyes. Bang. Bang." Asked what Logan did to deserve such a fate, Lucas said, "Well, you don't fuck with Zack Robinson." Pressed for specifics, Lucas blew up. "You stupid? I already told you what happened. You don't fuck with Zack Robinson."
In 2001, after his New York comeback show at the Village Underground, Tate more or less confirmed Lucas's version of the Turntable incident. Now hale, hearty, and full of Jesus spirit, Tate shivered when the name Harold Logan came up. "Remember him? I had bad dreams about him for years, lying there dead like that. Maybe he stole some money, I don't know. Back then, I didn't know who was a hoodlum and who wasn't. I was just a green kid. All I cared was whether they liked how I sang and if I got paid. But when Logan got killed at the club, I got my shit and never went back. If you ask me, that was the beginning of me leaving the business and everything that happened after that,  because I got scared so bad. But that's all over now," Tate said with a big smile. "I'm back and doing what I was born to do. Nothing could be better."