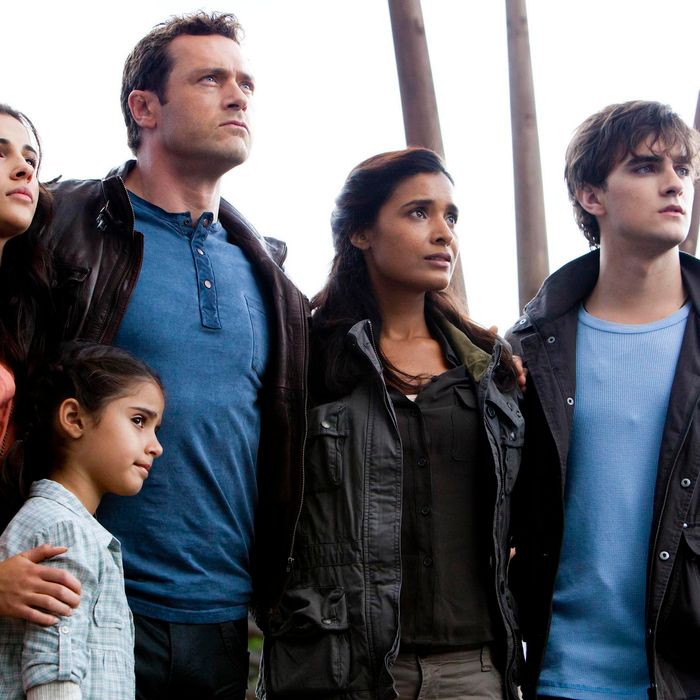 Before they head off on their holiday breaks, execs at Fox will be making a list, and checking it at least twice, as they try to determine the fate of freshman drama Terra Nova. It's been known for a while that network brass would have to make an early call on a second season of the show, thanks to its complex production schedule and the fact that Fox long ago determined that Terra Nova's first season would end this month after thirteen episodes. Now Vulture hears producers on the show will meet with the network to pitch their vision for a second season in the next few days, and that a verdict from Fox execs could come very shortly thereafter — possibly as early as next week. While ratings for the dino drama have underwhelmed (particularly opposite T-Rex-size expectations), determining whether Nova will live on or suddenly become extinct promises to be a close call for Fox suits.


The show's Nielsen ratings are key. And on the surface, things don't look good. Right from the start, viewer interest in Terra Nova has been less than what many industry insiders expected. The show's incredibly hyped two-hour debut attracted smaller tune-in among the key adults 18 to 49 demo than far less promoted newcomers such as ABC's Once Upon a Time or Revenge. Worse, the show has trended downward ever since, falling as much as 30 percent off its debut some weeks.

But overall this season, counting both live viewing and seven days of DVR tune-in, Terra Nova averages a 3.9 in the demo, which is not a dreadful number. Even in recent weak weeks, it still manages to rally to around a 3.0 demo rating when three days of DVR viewing are included. These ratings aren't so bad when accounting for the fact that Terra Nova is one of the few new dramas that has to lead off a night, which means it doesn't benefit from a strong lead-in (the way Revenge, for example, gets a boost from Modern Family). It's also in one of the toughest slots on TV, facing a resurgent CBS comedy block, Monday Night Football on ESPN, and ABC's still strong Dancing With the Stars.

Terra Nova is not some cheap procedural drama that shoots on a cheesy-looking backstage lot designed to look like New York City, though. It's a dang expensive show to produce. Precisely how rich its budget is isn't certain; Ad Age guesstimated a $4 million-per-hour price tag back in September, but with studio accounting tricks used to amortize start-up costs, it's not clear that will be the true cost for a season two. Whatever the actuals, renewing Terra Nova will likely mean Fox will have to pay out a bigger license fee than if it ordered up a new reality show or even a fledgling drama. That said, marketing and launching a totally new show is also very, very expensive these days. Sticking with Terra Nova might mean higher program costs, but some of that coin will be made up in reduced marketing.

Networks also like to justify bringing back borderline freshman shows by expressing confidence that they can grow in season two. Terra Nova's producers will no doubt promise some big new twist to help reboot the show, or vow to bring in new cast members, or possibly even recruit new writers. But while season two (and three) growth happens relatively often in comedy (see Happy Endings) or with cable dramas that slowly build audience via word of mouth (Breaking Bad), it's much less likely to take place with network dramas, particularly those with sci-fi or fanboy elements. What's more, there's no buzz about the creative direction of the show suggesting it's about to find its stride. Critics and bloggers aren't raving that it's some underwatched gem, like The Good Wife or even NBC's probably dead Prime Suspect. Odds are that, as with Fringe and Chuck, a second season of Terra Nova would probably draw about the same ratings as season one, and perhaps even decline a tad.
What might finally tip the scales for Fox is something completely unrelated to Terra Nova and its performance: Specifically, it's the fact that Fox does not know what sort of shape it will be in, drama-wise, come next May. The network is testing out two new Monday hours in the winter and spring, Alcatraz and Touch. Let's say both completely strike out. Suddenly, Terra Nova's so-so ratings look much better, since they at least offer Fox a pulse on Mondays. That's particularly true if, as is widely expected, Fox also decides to make this the last season of House. If Terra Nova gets the ax now and the new dramas flop, Fox would be faced with either totally reinventing Mondays or bringing back the very expensive House for another round. The best argument for renewing Terra Nova may just be that it's simply a good insurance policy for Fox's 2012 fall lineup.