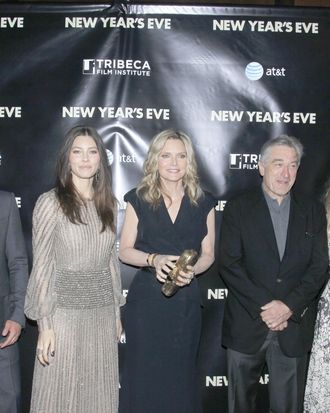 Photo: Jimi Celeste/PatrickMcMullan.com
New Year's Eve, the ensemble rom-com starring a cast of dozens, including Ashton Kutcher, Halle Berry, Lea Michele, Sarah Jessica Parker, Katherine Heigl, Zac Efron, etc., arrives in theaters tomorrow. It is director Garry Marshall's second film, after Valentine's Day, to focus on the romantic circumstances of an outsize cast on a particular holiday. (Should Marshall make a third such film, our fingers are crossed for the longer, more in-depth President's Day Weekend.) At the Tribeca Film Institute benefit screening of the movie last night, we spoke with Marshall about casting the film, his love of Lea Michele, Ashton Kutcher's aversion to the cold, and his actor's "safe word."
How do you cast a movie with this many stars?
Well, they read the script; we always have a script, we read 'em, and then I meet with them and I say what I had in mind. And a lot of times we're on the same page, and sometimes we're not. Sometimes some say, "I played that already." Others say, "I always wanted to play … " Jessica Biel wanted to play pregnant, Michelle Pfeiffer liked to play an invisible girl. Ashton Kutcher can play anything, but he doesn't like the cold, so he was indoors a lot in this film. He picked that part. But also, you know, ensemble, to actors, they like it because they don't have to carry the picture, but I told them it was a portmanteau movie, which is a word that means — it's French, I think — and I said it's a series of stories intertwined, and it's very nice, and it's made by all the European filmmakers. So they said, "A portmanteau." I said, "Yeah." So they said, "All right, I never did that." They did, but they didn't know. But that was one of my selling points, take the high road.
What about shooting? Did each actor or pair of actors shoot their bit and then leave?
Many of the actors are meeting for the first time right now [laughs], because they didn't appear in scenes together. Michelle Pfeiffer and Zac Efron met in Hairspray; they've been together. Ashton and Jessica [Biel] we knew from Valentine's Day. And who I was very excited to work with was Lea Michele, who's from the Bronx. She wanted to be in the picture about New York. She's a very New York girl, and I first met her in a wonderful show, Spring Awakening, on Broadway — she did all these things, and suddenly she sang and I said, "Wow, that's pretty good, this kid." So we had a good time with her. It was her first film, so we were very gentle with her, and I think she did a good job, by the way. It was very New York–y of me. We had a problem with the finish, and the studio wanted this, that, and they said, "What do you really want to do?" I said, "I think we should let the Bronx kid bring us home at the end." And she does, and does a great job.
You mentioned that Ashton Kutcher doesn't like the cold. When did you shoot?
Well, he was in a story that took place in an elevator. But we shot mostly in the streets. I don't do a lot of takes, it was cold, and I shot this in 48 days, one of the shortest schedules I ever had. But we did use two and three cameras, which I learned to do when I was new, in early movies. It means it's difficult for our cinematographer, Chuck Minsky, to light the girls to make them look pretty. You can light with one camera; when you've got three, it's a little harder, but he did make them look lovely.
One of our editors heard Zac Efron say that he had a "safe word" to use on set if he needed to talk to you privately.
Well, they all have a word, there's a code word that means "stop a minute, Garry." I think Hilary had "gag reel." Mr. De Niro just said, "Hey, Garry." His was simple. But everybody had a word that they knew if there was a problem, I'd stop everything and say, "Come here." Because it's not everybody's business what we do in each scene, it's just me and the actor and the other actors working with them.
Did anybody use the safe word?
A number of times, yeah. The only one that didn't really have one all the time was Michelle [Pfeiffer.] I've worked with her a lot, I know her well, and I can tell with her eyes and her mouth if she's happy or sad; I don't need a word.
Did you remember everybody's safe word?
Pretty much, and then I have an assistant that comes and sits. No, I do; I do really remember, because it's always a word that is something about our relationship, or something they like to do. I mean, Lea Michele just had to say "Bronx," and I knew. What? What's a matter? "Arthur Avenue," whatever, anything like that; "Grand Concourse" — those were all her words, so she did it.