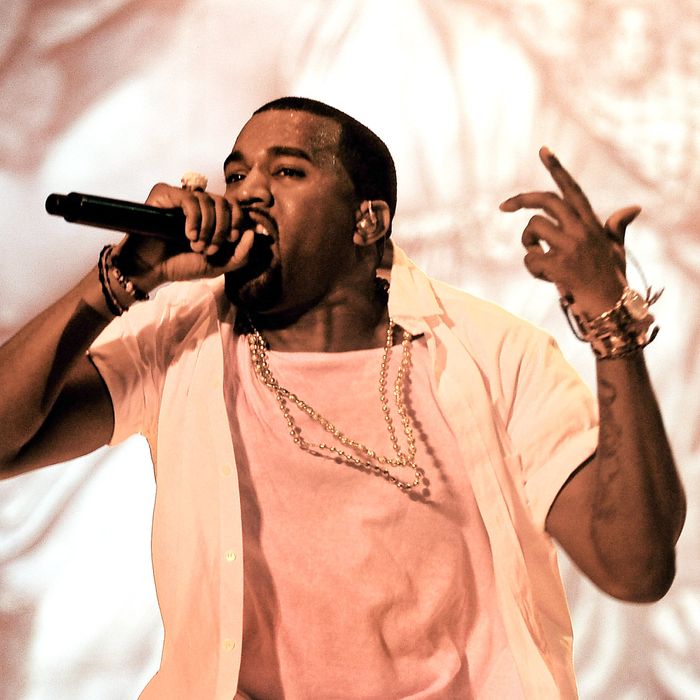 Kanye West
Photo: C Flanigan/2011 C Flanigan
Last night, on CBS, nominations for the 2012 Grammys were announced, in a concert format that tried very, very hard to convince viewers that the public is just hog-wild for pop stars and Grammys. (The public is, to an extent, but mixing your live broadcast so the applause from a medium-size theater is nearly drowning out the performers is the equivalent of steroid use, as far as accurately representing the level of frenzy goes.) Some notes on notable nominees, both the obvious and the sudden new Grammy darlings:
Kanye West (seven nominations): Kanye West got more nominations than anyone, but his partisans seem annoyed that his critically acclaimed art-rock rap opus isn't up for Album of the Year. This make sense: My Beautiful Dark Twisted Fantasy is one of those rare albums people take seriously enough to be disappointed about, but also popular enough that you might expect the Grammys to recognize it. Still, call it a snub all you want; I'm pretty sure this is just what happens when you make a critically acclaimed art-rock rap opus and lots of people find you annoying. I'm more shocked that Beyoncé's 4 — an R&B album in a dignified and classically Grammy-baiting mold — didn't get more nominations, but maybe that voting bloc just got siphoned off by Adele.

Mumford & Sons (four nominations): They performed their single "The Cave" at last year's Grammys. This is a pretty effective way of making sure Grammy voters have heard your single. The song's up for Record of the Year, Song of the Year, Best Rock Song, Best Rock Performance. If these guys didn't try quite so hard to pretend they're from the nineteenth century — so vigorously signposting that you might enjoy their dusty authenticity, the way they played their earliest gigs to flocks of sheep, the way they got money for their instruments by playing extras on Deadwood and in the steerage section of Titanic — they'd be pretty likable; the singles are good. But it might be precisely this over-the-top flag-waving of their intended appeal that makes them so workable, Grammy-wise, amid an institution that would desperately love to connect the idea of roots music and the idea of something being mildly popular in the present day. Last year's performance placed them on the Official Farms, Roots, and Facial Hair Stage, with Bob Dylan and the Avett Brothers — it's a package theme.

Bruno Mars (six nominations): Bruno Mars might as well have been trained from birth to get Grammy nominations, like some Cold War gymnast plucked out of the Ukraine at age 8and drilled for Olympic greatness. He has a classic showbiz talent and is very popular and also adorable. Six nominations. Duh. Although …

Taylor Swift (three nominations): But only nominated in "Country" categories! It's a funny turnout, given how much the nominations concert was striving to keep country from looking ghettoized — one of the few performance highlights was watching Lady Gaga and Sugarland play together.

Bon Iver (four nominations): One question is whether, a few months from now, you will feel much less or much more special for knowing how to pronounce this correctly. Look, I have the kind intellectual admiration for this guy's last record that can't really turn into love, owing to some feeling of aimlessness and a weird, totally personal disaffinity with the guy's voice — and I don't think there's anything massively surprising about his getting nominations from an institution that doesn't have any trouble "getting," say, Neil Young — especially when he has a good "story," involving isolated cabins and Kanye — but I do like that the new indie-type artist of choice this year is one who's taking traditional sounds and making them work in a strange way, rather than sanding down strange sounds to make them just palatable enough to surprise Grammy voters.

Skrillex (five nominations): You know what the Grammys can be much better attuned to than critics and music nerds are? Economic activity. Industry booms. Big populist trends that are making numbers and dollars move around, even if no one's giving them any official respect. Skrillex is currently riding a big wave of strangely bro-ed out electronic music in America — this mix of over-the-top video-game electro and the kind of metalesque dubstep you hear in commercials for Transformers movies and really big cars. The main criticism you'll hear about this music is that it's terrifically unsubtle and basically just heaps together all the shiny accessible bits from a wide span of old dance trends that once possessed more substance — which is, of course, exactly why a track like "Scary Monsters and Nice Sprites" (that one's nominated for Best Dance Recording) is easy to like, even for people with no previous immersion in or tastes regarding electronic music.

Foo Fighters (six nominations): One of this institution's many problems is that they want to give awards to relatively straightforward rock music without having to admit that rock music is no longer pop music and lives the bulk of its creative life in what, from a Grammy perspective, are niches and undergrounds. Foo Fighters are nominated for Album of the Year, among other things, because they solve this problem, about as much as it can be solved.

Adele (six nominations): The general assumption is that the awards night itself will resemble one long lifetime-achievement ceremony for Adele. She sold more albums than anyone else. She did it in precisely the traditional American-music mold that the Grammys understand and respect — and, if you think about it, in a way that unites just about every potential type of voter. (It's pop, it's soul, it's rootsy, it skirts rock and roll, it's dead center.) They should possibly invent a new awards category to bestow on this sort of thing: Best Demonstration That Our Industry Can Still Sometimes Make Money by Selling a Record to Massive Numbers of People, and Not Even Feel Bad About the Quality of the Music on It, Which Is Pretty Good.

Ledisi (three nominations): Now that our popular R&B singers have become, temporarily, "big thumping club track" singers, nominations in the R&B categories look a little more traditional than usual — jazz-influenced singer Ledisi and her album Pieces of Me pop up a lot. There are obvious nods, too, for self-consciously retro records like Raphael Saadiq's Stone Rollin and R. Kelly's Love Letter. (Personally, I wouldn't mind watching Marsha Ambrosius collect an award for "Far Away" — if only because her album was the most irresistibly friendly R&B work of the year.)

Robyn (two nominations): The Swedish singer, still basically a pop star from an alternate universe or time frame only slightly different than ours, is up against Skrillex for both Best Dance Recording and Best Dance Album. (This one actually surprises me, mildly.)

Seth MacFarlane (three nominations, technically speaking): That's right, the creator of Family Guy is up for a Grammy — for singing an album of totally non-comedic standards and musical numbers. In competition with Tony Bennett, Susan Boyle, Harry Connick Jr., and Barbra Streisand for Best Traditional Pop Vocal Album. (The other two nominations are for engineering on that album and a song from Family Guy.) He has, after all, a good and well-trained voice, and if I were him I'd totally make a vanity album, too; hell, it reached No. 2 on the Billboard "Jazz Albums" chart. And really, if you consider the Grammys to be on a slightly desperate quest to reconcile the Rich History of American Music with the new music lots of actual human beings listen to and purchase, year by year, you find something interesting here — basically a faux-Sinatra album that's surely been listened to by a whole bunch of young people in search of a way to find it funny.