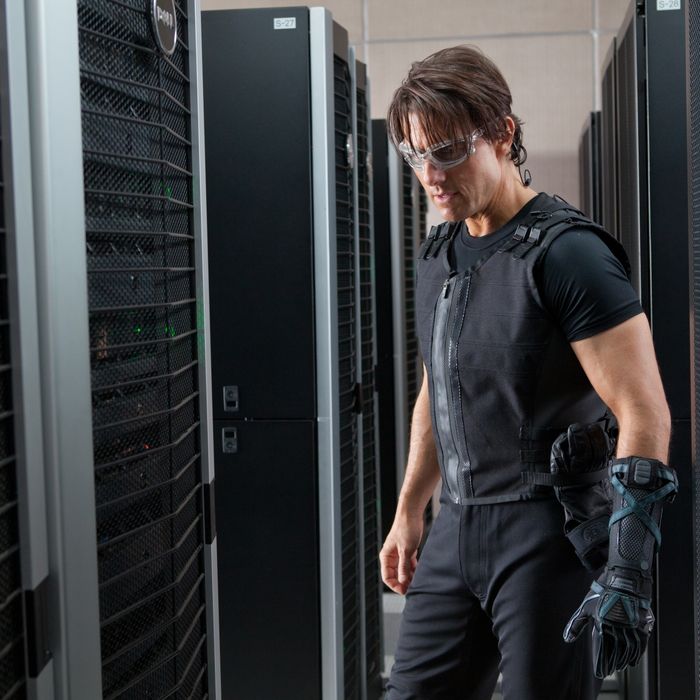 Mission Impossible: Ghost Protocol – Tom Cruise
Photo: Paramount Pictures
The fuse has been lit on Mission: Impossible - Ghost Protocol, which launched in an unconventional manner — it debuted only on IMAX screens last week before expanding into wide release yesterday — but has managed to parlay good reviews and heavy IMAX buzz into a strong No. 1 at the box office. Now that the movie is set to be the hit of the holiday season, it's time to convene a Thursday meeting of Vulture's Monday Morning Movie Club, in which we dissect the movie's talking points (both good and bad) now that we've all gotten to see it. Mild spoilers will follow.
Is this officially the start of a Tom Cruise comeback?
Tom Cruise has had a pretty remarkable career: From 1992's A Few Good Men to 2006's Mission: Impossible III, twelve of the fourteen movies he starred in made over $100 million (and sometimes over $200 million). That's kind of insane! And the two that grossed less? Eyes Wide Shut and Magnolia … not too shabby as far as working with auteur directors. But since the relative underperformance of Mission: Impossible III, which was weakened after Cruise spent an infamous year touting Katie Holmes and jousting with Matt Lauer, he's only taken part in one nine-figure grosser, Tropic Thunder, and he had what amounted to a disguised, extended cameo in that. With Ghost Protocol set to blow past its predecessor at the box office and give Cruise the kind of blockbuster he hasn't had in years, could this be a signal that audiences are ready to re-embrace him?
Couldn't they have gotten a better villain for this movie?
In a post entitled "Meet Michael Nyqvist, the Most Boring Villain of 2011," Moviefone's Christopher Rosen carps, "The dude looks like he's sitting in the middle of the worst conference call of his life throughout most of Ghost Protocol." And it's true! Michael Nyvqist's Hendricks is a bland villain, he's got a silly, dated motivation (blowing up the world, really?), and the script gives him only a handful of lines, which he delivers with zero dramatic flair. If you're going to have a bad guy in an action movie, have a little fun with it! Each previous Mission: Impossible installment has had a notable villain tormenting Tom Cruise — the first one had Jon Voight, the second had John Woo, and the third had Philip Seymour Hoffman — so why skimp on the baddie for the first time when you could be giving us someone IMAX-sized?
Sawyer!
Josh Holloway, we missed you! Why is your post-Lost career not bigger? You're rugged, charismatic, and beloved (and sadly, killed off right away in Ghost Protocol). Can someone please give him a lead role that doesn't come courtesy of a Chris Brown dance movie?
The titular protocol is not that big a deal.
Tom Cruise has found himself framed up and on the run before in other Mission: Impossible movies, but the twist here is that he and his team were so disavowed by IMF that "Ghost Protocol" was initiated, forcing them to save the world without any of the usual high-tech perks they usually had access to. Except … no, they still had everything. In fact, they even had incredibly job-specific things like skyscraper-scaling sticky gloves and Renner-floating gravity machines. It might have been fun to see Cruise & Co. have to scrounge around for new solutions or even be forced to steal some of the tech they needed, but ultimately, Ghost Protocol felt as toothlessly enforced as a Lindsay Lohan jail stint.
About that skyscraper sequence …
Holy Jesus, right? The IMAX push was near-negligible in most scenes, but on its own, Tom Cruise's attempt to climb the Burj Khalifa more than justified the increased ticket price. It's a breathtaking, breath-holding sequence, and Cruise deserves major kudos for doing nearly all those stunts himself.
What do you make of Jeremy Renner's franchise bona fides?
For recent Star Market inductee Jeremy Renner, Ghost Protocol reps an intriguing test: Much was initially made over the fact that down the line, he could assume Cruise's role at the forefront of the Mission: Impossible movies, but since then, Renner's picked up two more action franchises in the form of The Avengers and The Bourne Legacy. Does the two-time Oscar nominee have that special "It" factor that makes a man an action star? Or is the jury still out on that one, since Renner's character, Brandt, was mostly left to fret during every set piece?