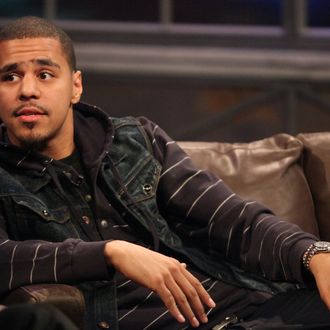 Photo: Astrid Stawiarz/2011 Getty Images
Best New Artist Grammy nominee J. Cole (yes, major award recognition officially graduates Cole past the "Jay-Z protégé" tag) chatted with the L.A. Times about the nod, and it looks like he can't decide if he wants to do the bragging rapper thing or just be a humble dude.
"I'm not walking in there with the attitude that I'm the guy [to beat]. But if I won, I'd know why. And if I didn't win, I'd understand," Cole waffles. Hmm. He'll need to amp up the braggadocio if he wants to compete with 2011 dominators like Bon Iver, Nicki Minaj, and Skrillex.