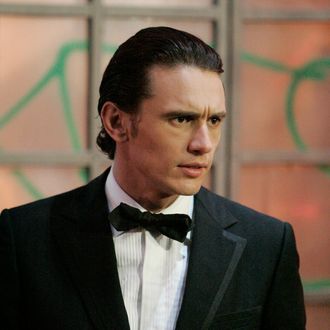 Photo: Rick Rowell/?2010 American Broadcasting Companies, Inc. All rights reserved.
Yesterday, Vulture broke the news that James Franco's soap muse, General Hospital showrunner Jill Farren Phelps, was being pushed out. Today, two more developments: First, ABC said Phelps's boss, ABC daytime president Brian Frons, was stepping down (D'oh!). And second, Franco responded to an e-mail we sent him asking for his take on Phelps's exit. His response is below, but we like his last line, in which he calls anyone in daytime  who doesn't want to work with Phelps "a fool." Maybe Frons can use that, um, "endorsement" as he works on his resume.
Jill is a pro.  She is experienced, innovative and loving.  I had nothing but great experiences with her for two years.  She was open to experimenting on General Hospital in ways that I have not found on any other film or television project.  Jill helped create daring story lines that blurred the line between fiction and reality — she allowed us to do a special episode at MoCA in LA for which they won day time Emmys, she was always open to taking the show in unexpected directions.  She and I plan to work together in the future because we enjoy collaborating so much.  Anyone in Soaps would be a fool not to want to work with her.