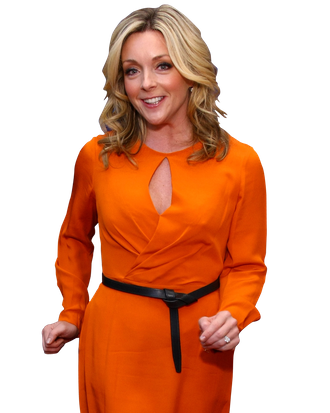 Jane Krakowski.
Photo: Neilson Barnard/Getty Images
Actress and superwoman Jane Krakowski had a new baby this past spring and is currently in the middle of shooting the sixth season of 30 Rock, which begins airing in January. So now seemed like the perfect time to do a revival of the famed musical She Loves Me for a benefit at the Roundabout Theatre Company. "They kind of woo you in with the word reading, but it's far more elaborate than that," the actress says in her trademark sing-song voice. "We are in fact doing the entire musical." She Loves Me is an adaptation of the 1940 film The Shop Around the Corner, which was based on the Miklos Laszlo play Parfumerie. And if you're not a theater nerd, check this: It was the inspiration for the Meg Ryan–Tom Hanks 1998 film You've Got Mail, which everyone who's ever been on an airplane has seen. In 1993, the Roundabout-produced version was a smash, earning nine Tony nominations and launching the organization's musical theater program, which Krakowski has been an integral part of. We caught up with her on a break from rehearsals (the one-off reading takes place Monday, December 5) and asked her about what it's like to get back on the stage, what we can expect from the new season of 30 Rock, and how Jenna has changed her life.
Have you ever seen She Loves Me performed?
I saw it years ago when they first did it at the Roundabout. It is the anniversary of when they started doing musicals at the Roundabout, which is why they chose She Loves Me. Obviously they've done very well with their musical department, so it's a celebration of the beginning of that time.
And you've done well with your work with the Roundabout.
I haven't done this show before, but I was in Company as well as Nine, which was one of my most favorite and exciting times because I got to win a Tony. I think of the Roundabout as my musical theater family here in New York City.
A family that allows you to win prizes …
That's right! One that sometimes allows me to win prizes. [Laughs.] This is good for me. We're filming 30 Rock at the same time and there's a bit of juggling.
Would Jenna ever work this hard?
I think Jenna would work hard, but I don't know if Jenna would ever get to a certain caliber. But it's good for me. The excitement of being in a rehearsal room is good for me. I still get thrilled by the energy that is a live performance, the fear and the panic and the electricity that happens on the night. I think jolting myself every once in a while with that fear is a good thing for me.
And you find jumping back and forth between She Loves Me and 30 Rock invigorating more than schizophrenic?
I do find it invigorating. It's kind of like that fear the first time you see a terrifying roller coaster. You're terrified to go on it, but you want to go on it and when it's over you want to do it again.
What do you think is so enduring about the She Loves Me story, which keeps being reinvented?
I think what makes it special is that tried-and-true story of boy looks for girl and girl looks for boy in the most unlikely of places and then they find each other. What I find beautiful is that each character is so fleshed out, so that even the smaller roles all have a moment to shine. That's rare.
I know that we the viewers miss Jenna when 30 Rock is on hiatus. Do you miss playing her?
I do, but I miss the whole process and all the exaggerated qualities of all our characters. I mean, certainly Jenna lives in a faux grandeur and it is fun for me to live in that. So yeah, I'm glad we're back. I have to tell you, we've filmed about six episodes and I can't wait for everyone to see the new season. The scripts are so good and it's still … there's so much that we've not done before, new ideas in our same wacky world.
When you are recognized on the streets, are people disappointed that you aren't as wacky as Jenna is?
I think people are just excited to meet someone that they see on TV. That's more of the vibe that I get. It has been a lovely joy to see how many more people are watching 30 Rock now. You can feel the effect since we've been in syndication. We're getting a whole new fan base. It's nice to welcome new people who are seeing it for the first time. They'll mention episodes from when I was still a wee lass. There's an appreciation of the show all over again. So that's nice. Welcome to our little club.