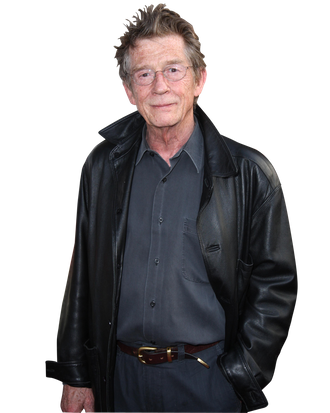 John Hurt.
Photo: JIMI CELESTE/patrickmcmullan.com
This week, John Hurt opened Krapp's Last Tape, the Samuel Beckett classic, at BAM's Harvey Theater. He plays the title character, a 69-year-old man who celebrates his birthday by looking back at a particular moment in his life. At 71 himself, Hurt has a lot of professional history to look back on, and we pressed him for some of it, like a mad airborne movie-set escape he once made with T-Bone Burnett. On a more contemporary note, Hurt also offered three cheers for his pal Lars Von Trier, who had just been acquitted of charges of speaking freely at France's Cannes Film Festival. Allons! 
Congratulations on making your New York stage debut!
Thank you! It's just two weeks, sixteen performances. Some strange ones, too: I have a school showing tomorrow at 10:30 a.m. that they just told me about. That will be interesting; not many kids nowadays can handle pauses for that long.
Right, there's a lot of silence in the play. Like the opening, when you're just sitting there staring out into the audience. They'll probably think you're just waiting for them to settle down.
[Chuckles.] It does have a particular effect.
So did the scenes where you have a banana hanging out of your mouth. I heard a lot of debate afterwards about what that was about.
Oh? Such as?
One person thought it was sexual. Another thought it was evolutionary: a monkey with a banana, the way you left it hanging out of your mouth. And another thought it was out of irritation about the passage of time, because he checked his watch.
All perfectly plausible. Whatever its implications, I don't think we're aware of them. We often do things that are perhaps sexually based, perhaps based on primal instinct, but we're not aware of the reason why we do what we do. I can tell you why I do it as far as Krapp is concerned: Bananas are bad for his condition, but he loves them, and he sneaks them like a naughty schoolboy. If he thought he was being watched, he would be devastated; it's an intensely private moment.
You actually did this play before, back in 1999?
My earlier version is not that much different than now. There are certain areas where it's less angry now, more remorseful and regretful. Anger is not an interesting emotion — it's too thin. It has no other possibilities, and it gets really, really boring. Have you not found another way of dealing with whatever you're shouting about?
Yet your character in Tinker, Tailor, Soldier, Spy, Control, is the only one who seems to get really angry.
[Yells.] "Get … out!" And wow, doesn't that work? Mostly because they're probably not used to it. [Laughs.] It's like a pressure cooker, the Circus, and the emotions might not be overt, but they're certainly there.
The film's been a major success in the U.K., but it's also a very English film.
It's very British and MI6, but we're capable of watching films about the CIA, so unless the U.S. is too insular, I think it'll do well here. Not as well, perhaps — that's asking too much. But the pendulum is swinging somewhat. The older audience — well, I don't want to sound ageist, so let's say the more experienced audience — is beginning to get tired of having to sit through children's films, which are not very good on the whole, and they're looking for something more stimulating.  
They might want you back for flashbacks in the sequel, Smiley's People. You're not as averse to revisiting characters these days.
I never revisit them the same way. When I did The Naked Civil Servant, I was as old as Quentin Crisp was, and the same for Englishman in New York — so that was a sense of continuity. Ollivander in The Deathly Hallows — that was completing the character. But I can't think of anything else that needs completing.
What about Oxley in Indiana Jones? They're talking about making a fifth movie now.
Nobody's talked to me! [Laughs.] But you never know. He's an old, old friend of the Jones family, so you never know. It would be fun.
You've narrated two Lars von Trier films, and it's nice that you finally got onscreen with Melancholia.
That's what I said to Lars! "You keep having me narrate. You never put me in them, you old fuck!" And he called my bluff. [Laughs.]
What did you think of the news that Lars was exonerated in France?
I should imagine so! I never heard something so silly. You know, I was sitting near him when he said those comments, I know all the intentions of what he was trying to say, and he unfortunately touched on a subject — whether you're being funny or instructive — that you just should never do in public. It's the last taboo. He did not say he was a Nazi sympathizer — that's the last thing in the world he would say — but he did say he felt he understood Hitler a certain amount. That's fair enough to say. And talk about storming a teacup! It was so completely ludicrous. But that's certainly good news. And Melancholia just got the European Film Award. I suppose it could be nominated for Best Foreign Film at the Oscars, but I'm not sure. Kirsten Dunst just did a wonderful job. I adore that girl. I'm very partial to my "daughter."
Your appearance at the Next Wave Festival coincides with a BAM film retrospective, including The Elephant Man, a role you almost missed out on because of Heaven's Gate. What happened?
They wouldn't let me go! [Laughs.] I was on the set of Heaven's Gate, and I had nothing more to do, but the flying banana wasn't flying. Hughes Airwest planes were yellow, so we called it "the banana." And T. Bone Burnett also had nothing to do — we were just hanging out, having a laugh — so the two of us commandeered this six-seat private plane. We felt like we were escaping across the Rockies! And finally we were able to find a telephone and call everyone and everything was fine.