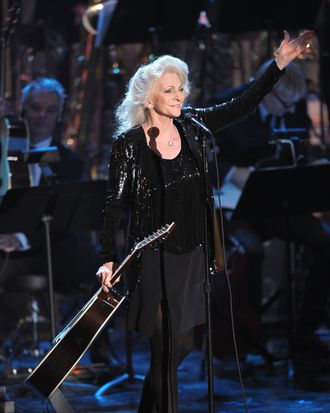 Judy Collins at the 26th annual Rock and Roll Hall of Fame Induction Ceremony. (Michael Loccisano/Getty Images)
Photo: Michael Loccisano/2011 Getty Images
A young Judy Collins looks out from the cover of her new book, Sweet Judy Blue Eyes: My Life in Music, with striking aquamarine eyes. The memoir, described as "alarmingly candid" in a review in the Daily Beast, is a folk-music name-dropper to be sure, but also digs into her own and her family's battles with alcoholism and suicide. Here we've pulled out some of the more interesting anecdotes and tidbits for your reading pleasure.
Minimum number of album covers Collins wanted to be just nude pictures of herself: Two, Wildflowers (1967) and Hard Times for Lovers (1979)
Number of those that ultimately had a nude Collins on the cover: Zero. Let's just say her record label, Elektra, went in a different direction.
Who convinced Collins she was into men, not women: Joan Baez, with whom she had a short-lived fling
The first instrument she played: Not the guitar, the piano
Best description of one's own alcoholism we've seen in a while: "I didn't take a lot of drugs, because I thought they would interfere with my drinking."
Age that her only child, son Clark Taylor, committed suicide: 33
Age Collins admits to a suicide attempt of her own: 14
How Collins helped name Chelsea Clinton: Bill and Hillary so loved Collins's rendition of Joni Mitchell's "Chelsea Morning" that they decided to name their daughter after the song title. Collins would later sing "Chelsea Morning" at Bill Clinton's inaugural ball and became a frequent guest in the Clinton White House. (Collins discusses her rocky not-quite-friendship with Mitchell in the book, and also here with New York.)
Contemporary artists Collins has on her iPod: Lady Gaga (the first album), Josh Groban, and Death Cab for Cutie