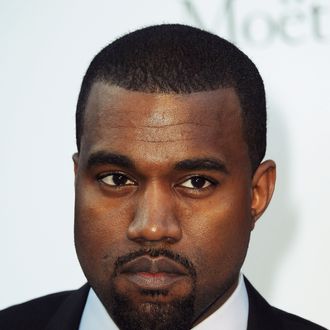 Photo: Francois Durand/2011 Getty Images
Kanye West broke his six-week Twitter silence today not to celebrate his Grammy nomination domination but to give a peek behind the scenes of the Watch the Throne tour. And it's a suitably solid clip, giving a nice taste of the tour's epic vibes with a killer Kanye voice-over to match.
"I was just thinking about my funeral and stuff a couple days ago and thinking who would be at the funeral," Yeezy says, measured and seemingly sans braggadocio. "People who I want to be in the funeral? I wanna have world leaders that were, like, affected, that said, you know, 'Kanye gave me my shot here.' Or 'he pushed me,' or 'he told me to believe in myself,' or 'when I saw this, it made me feel like that.' I wanna affect people like that when I, like, pass away."
The clip, a one-off free stream from the $5-monthly service VOYR, also lets you watch Kanye do Kanye things like put on gold bracelets and Air Yeezy sneakers. "I'm on a pursuit of awesomeness," he says. "Excellence is the bare minimum."
Jay-Z makes a noteworthy cameo performance toward the end, forcing us to ask ourselves: Does dude do anything but smile his head off these days?