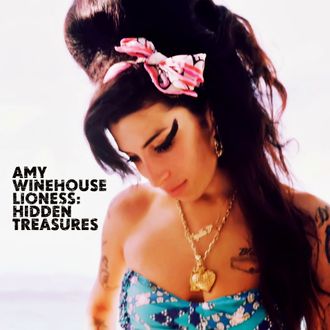 Amy Winehouse - Lioness: Hidden Treasures
Truthfully, there's not a lot of new stuff to say about Lioness: Hidden Treasures, the Salaam Remi– and Mark Ronson–produced Amy Winehouse album that's officially out next week. The slow trickle of Winehouse-related updates since her death means that Lioness only contains a few surprises — and even then, the new stuff isn't really new, either by the calendar (Winehouse recorded most of the tracks between 2002 and 2004) or by the content (the majority of the songs are either covers or alternate versions of previously released hits). We've already heard "Like Smoke," a half-finished cut off her unreleased third album featuring Nas, the retro-reggae cover of "Our Day Will Come," and "Half Time," a flute-tinged 2003 slow jam.
So what's left? How do you feel about "Girl From Ipanema," and would your feelings change if Amy Winehouse scatted over the last verse? If so, that music is now available; if not, you will probably prefer Amy's cover of "A Song for You," which sticks close to its soul roots and features fifteen seconds of Amy chatting animatedly about Donny Hathaway at the end. Hearing her passion for the music is obviously bittersweet; so, as you might expect, are the stripped-down versions of "Tears Dry," "Valerie," and "Wake Up Alone," which mostly serve as reminders of how great the originals were, and how sad it is that we won't get more like them. And then, there's Winehouse's "Will You Still Love Me Tomorrow," which is available on YouTube in simpler form but here comes fully scored with strings and horn and girl group "oohs." Winehouse takes her time against the giant Ronson production, milking every note, and it is incredibly hard not to hear something deeper in the lyrics. (That applies to the whole album probably, which: oof.) We'll leave you to your own listening, but let's go out with that one.