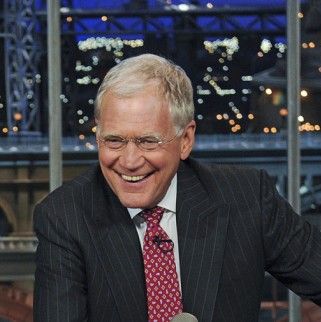 Despite their best efforts to destroy NBC, there was at least one Peacock institution that former network overlords Jeff Zucker and Ben Silverman were unable to take down during their respective tenures:  The Tonight Show. They tried, what with the whole Jay-Conan-Jay mishegas. But even through all that, Tonight managed to hold on to its No. 1 ranking in the key adults ages 18 to 49 demo. Well, score one for NBC's new Comcast owners: During the just-completed November ratings period, Tonight surrendered its seventeen-year hold on the demo throne, with CBS's Late Show with David Letterman winning among adults ages 18-49 for the first time since 1994. Mission accomplished!
For the so-called November "sweeps" period of October 27 to November 23, Late Show averaged a 0.9 rating with folks under 50. That was 13 percent better than the 0.8 rating for Tonight. The good news for CBS carried over to the 12:35 a.m. time slot, with Late Late Show with Craig Ferguson out-rating Late Night with Jimmy Fallon in the 18 to 49 group for the first time ever in the history of Late Night (with either Fallon or Conan O'Brien hosting).
Interestingly, despite CBS's rep as the "old" network (not really deserved, since the network is actually a powerhouse in key demos), NBC's late night shows managed to win in total viewership, indicating older folks prefer Leno (and Fallon). But even on that front, things were close: Tonight drew just 200,000 more viewers on average than Late Show. While NBC's overall prime time health certainly hurts Leno's number, one key reason for the Jaypocalypse in November was the Peacock's complete surrender in the 10 p.m. time slot that leads into local newscasts and Tonight. Network brass made the confounding decision to slot Brian Williams's unproven Rock Center on Mondays at 10, resulting in ratings even lower than the axed The Playboy Club. And while it was clear in October that Prime Suspect wasn't working on Thursdays, NBC kept it on the air on Thursdays during the November sweeps. A case could be made that the Peacock's decision to keep things stable in prime time was actually a good move, since it avoided the sense of panic and improv that permeated NBC during the Zucker-Silverman Era. And it's nice to see a network doing all it can to support a good show like Prime Suspect.  That said, there's a difference between being patient and throwing good money after bad, and by stubbornly sticking with failing 10 p.m.  shows for so long, NBC may have handed CBS and David Letterman a key psychological victory.