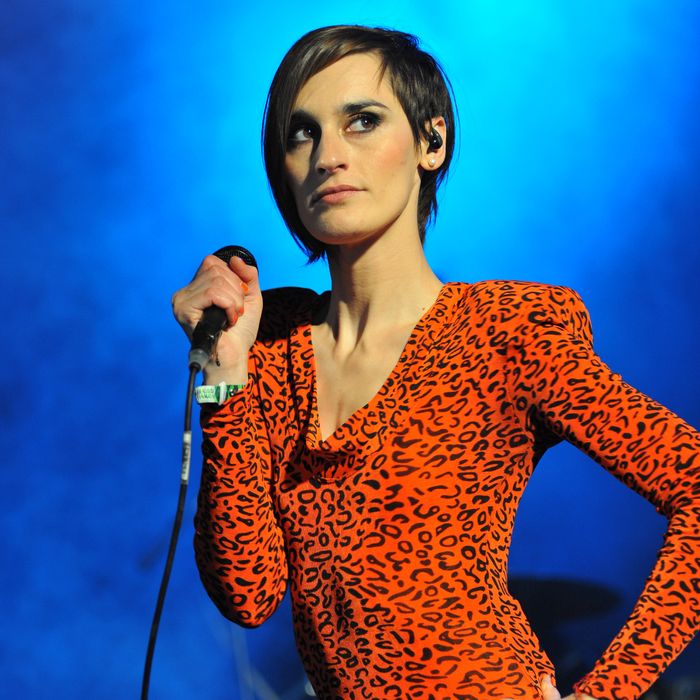 Have you checked out Yelle yet?
Photo: C Brandon/2011 C Brandon
Did you hear all the music released this year? That's a trick question: You couldn't have. It's impossible, time-wise. Especially if you take time out to eat, bathe, talk to people, live your life, or — this is the most dangerous one — listen to any one thing repeatedly. That's just one of many reasons I've never been good at trying to list the "best" albums or the "best" singles of the year: There is a ton of music in the world, and I only have one set of ears, and all our ears are different. So I tend to finish the year with a lot of albums and songs that I love and care about, and very little desire to tell anyone they're "better" than anything else — just a scattering of music that meant something to me, some of which may be weird, personal, unimportant, or not-for-everyone.
This list — available as a Spotify playlist — is,  accordingly, not exactly a list of "bests." It's just 50 tracks I happened to love and that I like to think some of you might enjoy. (It's also, for the record, tilted toward things you may not have come across already; I'm guessing you already have your opinions on, say, Adele.) It's a sampler, so not all of it will be for everyone; maybe you'll be in the mood for French dance-pop like Yelle's, or R&B from Marsha Ambrosius and Lloyd, or synth-pop from Austra and Chairlift, and find yourself wanting to skip the seven minutes of transcendental metal riffing from Liturgy, or the hardcore bash of the Men. Or vice versa! At the risk of sounding like Forrest Gump, I would suggest that the whole thing is possibly best approached like a box of chocolates. In any case, it's one slice of stuff I liked this year, and here's hoping you'll find a thing or two in there that speaks to you, too. In no particular order:
Tune-Yards – "Bizness"
Wiley – "Numbers In Action"
Gauntlet Hair – "Top Bunk"
Shabazz Palaces – "Swerve… the reeping of all that is worthwhile (Noir not withstanding)"
Katy B – "Movement"
The Drums – "Money"
Jamie xx – "Far Nearer"
Chairlift – "Amanaemonesia"
King Krule – "Portrait In Black and Blue"
The Vaccines – "Post Break-Up Sex"
Lloyd – "Cupid"
Destroyer – "Savage Night at the Opera"
Austra – "Hate Crime"
Das Racist – "Michael Jackson"
Death Grips – "Takyon (Death Yon)"
Eleanor Friedberger – "My Mistakes"
DJ Quik – "Do Today"
Yelle – "Safari Disco Club"
Marques Toliver – "Deep In My Heart"
Gang Gang Dance – "Adult Goth"
Nadia Oh – "Taking Over The Dancefloor (Radio Edit)"
Kendrick Lamar – "F*ck Your Ethnicity"
Wye Oak – "Holy Holy"
PJ Harvey – "The Glorious Land"
Nicolas Jaar – "Space Is Only Noise If You Can See"
Colin Stetson – "A dream of water"
Liturgy – "Generation"
Jamie Woon – "Night Air"
Britney Spears – "How I Roll"
The Joy Formidable – "Whirring"
Wavves – "I Wanna Meet Dave Grohl"
TV Ghost – "Wired Trap"
St. Vincent – "Cheerleader"
Jay-Z and Kanye West – "No Church In The Wild"
Frank Ocean – "Novacane"
The Men – "Bataille"
Prurient – "A Meal Can Be Made"
James Blake – "I Never Learnt To Share"
Feist – "A Commotion"
Bobby V – "Words"
Fucked Up – "The Other Shoe"
Jeff The Brotherhood – "Cool Out"
Marsha Ambrosius – "Hope She Cheats On You (With A Basketball Player)"
Burial – "Stolen Dog"
Girls – "Vomit"
EMA – "California"
Lady Gaga – "Marry The Night"
Beyoncé – "Countdown"
Dum Dum Girls – "There Is a Light That Never Goes Out"
Kate Bush – "Snowed In At Wheeler Street"
Listen to the playlist on Spotify.
Related: Nitsuh Abebe's Top 10 Albums of 2011
Nitsuh Abebe on the Triumph of Mainstream Pop
Nitsuh Abebe on Adele's Big Year